"I am no longer accepting the things I cannot change. I am changing the things I cannot accept." – Angela Davis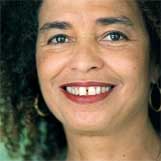 Angela Davis has long been an advocate for change. Emerging to the public sphere in the 1970's, Angela has long been a controversial figure known for being vocal about the social, political, and economic injustice in this nation. From being on the FBI's Top Ten Most Wanted list, Angela used her platform and capitalized on her fame to voice her concerns about societal struggles having to do with race, gender and equality for all. Today, Angela is a worldwide renowned keynote speaker who spreads her knowledge at events and college campuses across the globe. She seeks to inspire change and and show audiences everywhere that they have the power to make a difference in this world.
Looking to book a Angela Davis for an event? Visit us at www.eaglestalent.com or call our office at1.800.345.5607.
Subscribe to our blog
Stay up to date on all the latest news at Eagles Talent
By continuing to browse, you consent to our use of cookies. To know more, please view our
Privacy Policy.
Hide