The Capitol Steps for… President?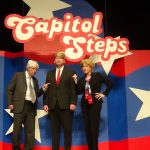 Meet the candidates who Americans can truly stand behind. They will restore entertainment to events, laughter to audiences, and good times to all who attend!
The Capitol Steps have been satirizing politics for the past three decades. Since then, they have appeared on a range of shows such as "Good Morning America," the "Today Show," "20/20," "Entertainment Tonight," "Nightline," CNN's "Inside Politics," and dozens of times on National Public Radio's "All Things Considered." 
Today, The Capitol Steps continues to tour across the country as one of the most in demand entertainers events. Together the performers have worked in a total of eighteen Congressional offices and represent 62 years of collective House and Senate staff experience. As entertainers, The Capitol Steps incorporate hilarious jokes, music and much more into their shows, providing audiences with a memorable night filled with laughter and a good time. 
Eagles Talent is proud to endorse: The Capitol Steps!
For more information on booking The Capitol Steps for one of your events, check out their page on our website or call our office at 1.800.345.5607.