Janet Brill has been transforming lives through healthy living for more than 20 years. She is a best-selling author, nationally recognized expert in the field of health, wellness and cardiovascular disease prevention. She is frequently sought after by the media as a trusted source of nutrition and fitness information, and has become a superstar-keynote speaker in the healthcare industry.

With Dr. Janet's impressive credentials, it's no surprise that she has served as both a nutrition consultant, and health seminar expert for Fortune 500 companies. Her educational background includes master's degrees in both nutrition and exercise physiology, and a doctorate in exercise physiology. For many years she taught graduate and undergraduate courses in nutrition, health and fitness at the University of Miami and Florida International University. In addition, she is a registered dietitian and certified by the American College of Sports Medicine, National Strength and Conditioning Association, and Wellcoaches, Inc.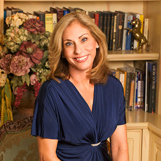 Dr. Janet's keynote presentations focus on health and wellness, and nutrition. She addresses the prevention of heart attacks in women, exercise facts, healthy eating tips, and truths about cholesterol. Her diverse topics render her an expert in her field. And as an health & wellness expert, Dr. Janet wanted to help as many people as she could; so she began to put her ideas to paper. By 2007 she wrote her first book on nutrition entitled: Cholesterol Down, which explains how people can take Control of their Cholesterol — without drugs. In 2010 she put together a healthy eating and weight loss program called Nutrition Together, which is available worldwide at Fitness Together personal training studios. And in February of 2011, she released her second book: Prevent a Second Heart Attack, which shows people how to reverse Heart disease in just 8 Weeks! Both books were a big hit in the medical community, and led her to being published in several noted scientific journals such as; the International Journal of Sport Nutrition, the International Journal of Obesity, Men's Health, Woman's World, and many more.
Today, Dr. Brill continues her good works of spreading her healthy message on television, and to various organizations. She uses her own healthy lifestyle — like participating in marathons and charity road races, to promote a healthy diet, good health, and longevity. Good health enhances job performance in any field, so she is an asset to any organization. Her tips not only improve energy levels and job performance, but they save lives.
To check availability and book Dr. Janet Brill for your next event:
Call Eagles Talent: 1.800.345.5607
Or click here to visit her keynote speaker profile page.