When eaten in moderation, cheese can be one of life's more delightful delicacies. Unfortunately, too much cheese can become unhealthy. That's where Dr. John La Puma steps in.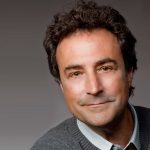 With a career spanning several decades, health and wellness keynote speaker and chef Dr. John La Puma makes readily available many healthy recipes that incorporate necessary nutrients needed in our every day lives. In honor of Weight Loss Awareness Month, along with Cheese Day, here is Dr. John La Puma's delicious recipe for Creamy Goat Cheese Omelet with Chives and Corn:
Ingredients:
Cooking spray
1/2 cup fresh or thawed frozen corn kernels
3 large egg whites
1 large egg
2 tablespoons nonfat soymilk or skim milk
1/4 teaspoon salt
1/4 teaspoon freshly ground black pepper
4 tablespoons (1 ounce) crumbled goat cheese or herbed goat cheese, to be split.
1 tablespoon plus 1 teaspoon chopped fresh chives, divided 
Directions:
Heat a large nonstick skillet over medium heat until hot. Coat lightly with cooking spray and add corn; cook 2 to 3 minutes or until beginning to brown, stirring occasionally. In a medium bowl, beat together egg whites, egg, soymilk, salt and pepper. Add to skillet and cook for 2 minutes or until eggs begin to set on bottom. Gently lift edges of omelet with a spatula to allow uncooked portion of eggs to flow to edges and set. Continue cooking for 2 minutes or until center is almost set. Set aside 1 tablespoon of the cheese for garnish. Scatter remaining 3 tablespoons goat cheese and 1 tablespoon chives over the egg mixture. Using a large spatula, fold one half of omelet over the filling; cook 1 minute or until cheese is melted. Cut in half; transfer to serving dishes and top with remaining 1 tablespoon goat cheese and 1 teaspoon chives.