Did you know today was National Chocolate Cake Day? In honor of this day, here is a recipe from our Celebrity Chef Joey Altman. 
Ingredients
8 ounces bittersweet chocolate
¼ pound (1 stick) unsalted butter
3 large eggs, separated
½ cup sugar
Nonstick vegetable oil cooking spray
Directions
1 pint premium vanilla ice cream (optional)
1. Melt the chocolate and butter together in the top of a double broiler over — but not touching — simmering water. Set aside to cool.
2. In a medium bowl, whisk the yolks with ¼ cup of the sugar until they are pale and light, about 5 minutes.
3. Whip the whites in a large, clean, dry bowl until they are thick and frothy, then add the remaining ¼ cup sugar and continue whipping until they form soft peaks. They should not be at all stiff or dry.
4. Fold the yolks into the melted chocolate, then fold the mixture into the whites. Cover and refrigerate for at least 1 hour or up to 2 days.
5. Preheat the oven to 400 degrees. Spray six ramekins with vegetable oil spray and fill with batter. Bake the cakes until they are set around the outside, but are still quite runny when you poke a toothpick into the center, about 15 minutes. Unmold each ramekin on a plate while still warm. Serve two small scoops of vanilla ice cream on the side of each cake.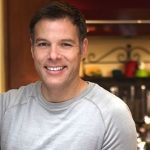 As a Celebrity Chef, Joey Altman uses his skills to organize, define, and refine strategies for organizations to create long-lasting and successful operations. In addition to his career as a public speaker, Chef Altman works as a specialty food and restaurant consultant, advising clients on how to best manage their establishments and provide world-class service to customers from all walks of life. 
For more information on booking Joey Altman for one of your events, check out his page on our website or call our office at 1.800.345.5607.