Did you know that September 16 is officially National Guacamole Day? In celebration of this day, we decided to share this delicious guacamole recipe from Celebrity Chef and author Chef Missy Chase Lapine.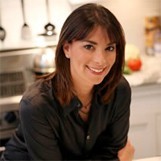 The Sneaky Chef is the brainchild of Missy Chase Lapine, whose New York Times bestseller, The Sneaky Chef: Simple Strategies for Hiding Healthy Foods in Kids' Favorite Meals inspired a whole new brand in the healthy eating/lifestyles category. 
Sneaky Chef Guacamole with Jicama "Fries" as Dippers
Ingredients
1 ripe avocado
1/2 lime, freshly squeezed
1/2 teaspoon salt
1/4 cup Sneaky Chef Green Purée (spinach, broccoli and peas)
Optional extra boost: chopped red onion, chopped tomatoes chopped cilantro (or fresh basil), and/or chopped jalapenos, to taste
Directions:
Halve the avocado lengthwise, remove the pit and scoop out the flesh. In a small bowl, combine the avocado with the lime juice, salt, Green Purée and optional extras, if desired. Mash with the back of a fork to desired consistency.
Makes about 4 small servings. Goes well with Jicama "Fries" (below) and/or homemade crunchy corn tortillas or Crunchy Corn Chips.
Jicama "Fries"
Jicama (pronounced HEE-ka-ma) is a root vegetable with a high water, high fibre, low carb count, with a crunchy texture and sweet taste, somewhere between an apple and a water chestnut. It makes crunchy raw sticks that look like uncooked French fries, making them that much more fun for kids and adults alike.
Ingredients
1 small to medium-sized jicama
Directions:
The easiest way to peel jicama is using a carrot peeler. Rinse the jicama, then slice off each end first. Peel as you would a potato. Once peeled, cut into French fry shaped sticks.
Interested in booking Chef Missy Chase Lapine, check out her profile on our website or call Eagles Talent Speakers Bureau at 1-800-345-5607.