Last month, President Obama declared May to be Asian American and Pacific Islander Heritage Month. In his declaration, President Obama further explained how generations of immigrants from Asia and the Pacific Islands have suffered discrimination and hard labor to obtain their piece of the American dream.
Today, the culture brought by these individuals is an important ingredient in the melting pot of the United States and its impacts can be felt virtually everywhere, especially gastronomically.
To sho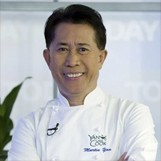 w our own appreciation for the valuable impact and influence of Asian Americans and Pacific Islanders in America, here is a three-course meal by Chinese Celebrity Chef Martin Yan.
Hailing originally from Guangzhou, China, Martin has hosted over 3,000 cooking shows, broadcast worldwide, and found expression in over 30 cookbooks, including the award-winning Martin Yan's Feast, Martin Yan's Asian Favorites, Chinese Cooking for Dummies, Martin Yan's Chinatown Cooking (intro by Julia Child), Martin Yan's Quick & Easy, and his latest, Martin Yan's China. Martin has dedicated his travels and teaching to dispelling the mysteries of Asian cooking.
So without further adieu: Dig In!
---
Starter: Potstickers (From Yan Can Cook, 2003)
Total Cook Time: 35 Minutes; Makes 24 Dumplings
Ingrediants:
1/4 pound ground pork
2 ounces uncooked shrimp, shelled, deveined, and finely chopped
1 egg white
1/4 cup minced water chestnuts
2 tablespoons minced Chinese celery
1 teaspoon minced cilantro leaves
1/2 teaspoon minced ginger
1/2 teaspoon sugar
1/2 teaspoon salt
1/8 teaspoon sesame oil
Dash ground white pepper
24 potsticker wrappers
3 tablespoons cooking oil
2/3 cup chicken broth or water
Directions
In a large bowl, combine, the pork, shrimp, egg white, water chestnuts, celery, cilantro, ginger, sugar, salt and sesame oil. Season with a little pepper and mix, stirring rapidly in 1 direction until the mixture is well combined and spongy.
To make the potstickers: Working in batches, lay 4 potsticker wrappers on a clean surface. Keep the remaining wrappers covered with plastic wrap to prevent drying. Put a heaping teaspoon of filling in the center of each of the 4 wrappers. Brush the edges with water. Fold the wrappers in half over the filling, pinching the edges together to form semi-circles. Put the potstickers on a baking sheet seam-side up and cover with a clean towel. Repeat until all the potstickers have been formed.
To cook the potstickers: Heat a large skillet over medium. Add about 1 1/2 tablespoons of oil. When the oil is hot add half the potstickers, seam-side up. Cook the potstckers until the bottoms are golden and crisp, about 4 minutes. Add 1/3 cup broth. Reduce the heat to low, cover, and cook until the liquid is absorbed, 5 to 6 minutes. Transfer the cooked potstickers to a platter. Repeat, cooking the remaining potstickers.
Serve the potstickers warm accompanied by dipping sauce.
---
The Main Meal: Shrimp and Sugar Snap Peas Stir-Fry
Total Cook Time: 45 Minutes; Serves 4
Ingredients:
Marinade
1 tablespoon minced ginger
2 teaspoons chinese rice wine or 2 teaspoons dry sherry
2 teaspoons cornstarch
1 teaspoon red chili pepper flakes
1 teaspoon sugar
1/4 teaspoon salt
1/8 teaspoon white pepper
Stir-Fry
3/4 lb medium shrimp, peeled and deveined
1 tablespoon vegetable oil
1/2 yellow onion, thinly sliced
6 ounces sugar snap peas (about 2 cups)
1/4 cup chicken broth
1/2 teaspoon sesame oil
Directions:
Combine all the marinade ingredients in a bowl; mix well. Add the shrimp; stir to coat evenly; let stand for 10 minutes.
Put stir-fry pan over high heat until hot. Add in the oil; swirling to coat the sides.
Add the onion and sugar snap peas; stir-fry until the peas are tender-crisp, about 2 minutes.
Add in the shrimp; stir-fry until they turn pink, about 1 ½ minutes.
Add in the broth and sesame oil; stir-fry until the broth boils and thickens slightly, about 20 seconds. Transfer to a serving plate and serve.
---
On The Side: Carrot-Pineapple Rice (From Martin Yan Quick & Easy)
Total Cook Time: 35 Minutes; Serves 4
Ingredients:
1 (8 ounce) can crushed pineapple, in natural juice
1 1/3 cups water
1 carrot, peeled and grated (about 1/2 cup)
1 cup long-grain rice
1/2 teaspoon salt
3 green onions, thinly sliced on the diagonal
1/2 teaspoon sesame oil
Directions:
Drain the pineapple, reserving the juice. Pour the juice into a 2-quart pan.
Add in the water, carrot, rice, and salt; bring to a boil over high heat.
Decrease the heat to medium and simmer, uncovered, until craterlike holes form on the surface of the rice, about 6 minutes.
Decrease the heat to low, cover and cook, undisturbed, until all the liquid is absorbed, about 10 minutes.
Fluff the rice with a fork and stir in the pineapple, green onions, and sesame oil. Cover until ready to serve.
---
Dessert: Walnut Cookies
Total Cook Time: 40 minutes; Makes 2 dozen cookies
Ingredients:
1 3/4 cups flour
3/4 teaspoon baking powder
1/2 teaspoon baking soda
1/2 cup butter, softened
1/2 cup solid vegetable shortening
2/3 cup granulated sugar
1/2 cup packed brown sugar
1 egg, lightly beaten
1 teaspoon vanilla
1/4 cup finely chopped walnuts
About 40 walnuts halves
Directions:
Sift flour, baking powder and baking soda into a bowl. With an electric mixer, beat butter, shortening and sugars in a large bowl until fluffy. Add egg and vanilla and beat until blended. Add flour mixture; mix well. Stir in chopped walnuts. Shape dough into a ball, cover with plastic wrap, and refrigerate at least 1 hour or up to 2 days.
To bake, divide dough into 4 pieces and each piece into 10 portions. Roll each portion into a ball, then place 2 to 3 inches apart on a baking sheet. Press a walnut half into center of each ball.
Bake in preheated 350-degree oven 14 to 16 minutes, until golden brown. Let cool on baking sheet 5 minutes, then transfer to a rack to cool completely. Store in an airtight food container. Makes about 40 cookies.
---
Interested in bringing Chef Martin Yan to your event?

Go ahead … click the Eagle to get in touch with us.