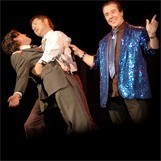 Hypnotwist is sure to give audiences an one-of-a-kind experience they'll be talking about for years. At the beginning of the act, the room is introduced to their entertainer for the night: a famous Czech entertainer who has sold-out shows all through the Republic. After a dazzling musical opening, he introduces himself as a hypnotist, and picks three volunteers from the audience to participate in his show.
Unbeknownst to those watching, two of the "volunteers" are actually trained actors and singers who have been planted in the audience and are part of the gag. Our hypnotist places the volunteers into a deep "trance," and when they awake, they are belting out star-quality musical numbers. From rock n' roll to opera, the volunteers are "hypnotized" into a giving a show stopping performance.
At the dramatic climax of the event, the set-up is finally revealed, and the audience realizes they've been duped. Hypnotwist is a truly unique experience– it's a prank that won't soon be forgotten.
[bitsontherun oG45gqt8]