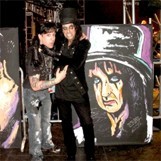 Artist Rock Demarco is the self-proclaimed 'fastest painter in the world.' In less than 15 minutes, Rock creates bold graffiti-style portraits of all types of famous faces. His unique style and technique turns visual art into an all-out show. Each show is set to high-energy rock music. As he begins working on his masterpiece, singing along with the music, flinging paint onto canvas to the beat of the drums, you can tell he is in his element. Starting out at just streaks and splotches, the final product is left a mystery, leaving the audience guessing until the very end.
Rock takes his audiences on a wild ride of imagination, and challenges them to look at the world from a different perspective. His paintings have earned him critical acclaim, helped raise money for charities worldwide, and most importantly – brought smiles to the faces of millions of fans.

[bitsontherun SknMHcKs]
If you want to bring the excitement of Rock Demarco to your next event, call Eagles Talent Speakers Bureau at 1.800.345.5607.