"Try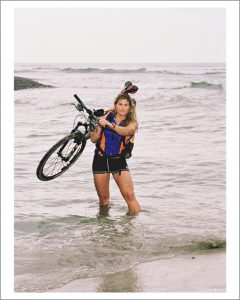 to move at least an hour a day, whether it's taking a walk on the beach, walking your dog a little longer than you usually do, playing volleyball with your friends, joining a pickup basketball game or going to an entry-level aerobics class. Then you'll find what you love." –Robyn Benincasa
June is National Great Outdoors month – a month that encourages people to get active and enjoy the world around them. Adventurer speaker and World Champion Adventure Racer Robyn Benincasa knows all about taking advantage of the outside world. Her expertise in sports and teamwork translate into every environment, especially in the workplace.
With Robyn as a keynote speaker, audiences will leave the room buzzing with inspired ideas about how to raise their team to the next level against all odds, both personally and professionally, and take home some simple and easily applied skills that will allow them to create Human Synergy with all of the teammates in their lives.
For more information on booking Robyn Benincasa for one of your events, check out her page on our website or call our office at 1.800.345.5607.