Wellness Wednesdays are about individuals improving their physical, mental, and spiritual health.
In light of that, we are featuring Giuliana Rancic in today's blog to describe her journey after being diagnosed with breast cancer. Her accomplishments and support to the Breast Cancer community continue to be both admirable and appreciative to our society.
---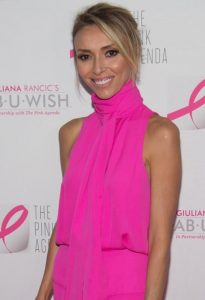 Giuliana was diagnosed with breast cancer in 2011, and after her double mastectomy in 2012, she was declared cancer-free! Giuliana did not stop there; she continued to conquer her goals and made great strides with other women dealing with the same heart breaking news she had once received.
That same year, she set up a foundation called Fab-U-Wish, with the mission to grant wishes to women who have breast cancer. Giuliana stated, "When you're diagnosed, you don't care about hair and makeup and clothes and all the little things in life… I realized, 'I'm not just someone with breast cancer. I'm still the girl I was before.' I wanted to find a way to give women the opportunity to feel fabulous for a day."
According to a Los Angeles Times article, Giuliana's statement served as the importance and purpose of her foundation. In addition to these feats, Giuliana also gave birth to a healthy baby boy named Duke on April 23rd, 2012.
Following the next couple of years in 2015, Giuliana teamed up with a breast cancer charity, the Pink Agenda and Volkswagen, to auction off a limited-edition 2017 pink Volkswagen Beetle car. Not only was the winner flown into New York to attend a Pink Agenda event, but they also got to meet and spend quality time with Giuliana!
Fast forward to 2017, Giuliana Rancic was recently the keynote speaker for Susan G. Komen's 35th anniversary luncheon that took place on September 27th at the Belo Mansion & Pavilion. Giuliana's personal battles have changed her perspective and inspired her to help others. She continues to make it her priority to donate, spread awareness, and show support for women and men through her keynote presentations.
---
For more information on booking Giuliana Rancic: 
check out www.eaglestalent.com or call our office at 1.800.345.5607.
---