It's the heart of the holiday season! This is a time where people are more giving to those around the community. And every year the Salvation Army gets donations to help people less fortunate, so that they can enjoy their holidays too. 
One of the easiest ways to donate is at a Red Kettle station. Not sure what that is? Maybe the photo below will "ring a bell"…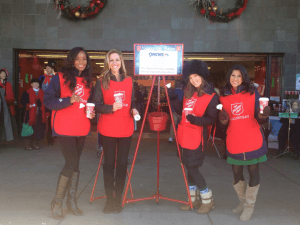 Around The World pilot,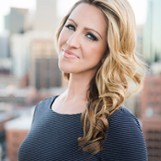 TV news reporter and our talented managed keynote speaker, Amelia Rose Earhart, took time to give back this holiday season! This past Wednesday, Amelia and her fellow coworkers from 9 News Denver volunteered as Bell Ringers for the Salvation Army. Red Kettle stations can be found in many locations, typically in front of a shopping center or on a popular street. Bell Ringers are volunteers who chime their bells to get people's attention to make a donation.
When she's not giving back to the community, Amelia is busy with speaking events. As one of the youngest women to fly a single-engine plane around the world, Amelia serves as an inspiration to her audiences. In her keynote presentations, she discusses leadership and encourages her audience to set goals and not give up on them.
Bonus Clip from Amelia's Twitter!:
For more information on booking a managed keynote speaker for one of your events, check out www.eaglestalent.com or call our office at 1.800.345.5607.