There's an old saying, "do as I say, not as I do." Well, that was the exact predicament that Inspirational Leadership Speaker Vernice "FlyGirl" Armour was in before she made a leap of faith in her career path. In this two-part article, Vernice reveals what inspired her to stop playing it safe and go out there and make that "gutsy move" to follow her dreams.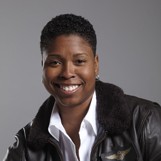 I'll never forget the moment I came face to face with my biggest Gutsy Move yet! I went from playing the game to being a game changer. Even though I had only been in the Marine Corps for nine years, I could feel that I was getting closer to being ready to leave the military. I always felt I'd know when the time was "right" and I'd make my move. After completing two combat tours in Iraq, much to my surprise, I had become America's First African American Female Combat Pilot. When I returned home from my deployments, people started asking me "how I did it". How did I accomplish so many of my goals at such a young age? I even had few organizations ask me to come speak to their workforce about my experiences. I could see that the game had changed. What I started realizing is that many people wanted to create breakthroughs in their lives, they just didn't know how. I knew that, without a doubt, speaking and sharing my message would be something I did for the rest of my life. I even remember saying to myself, if this "speaking thing" ever blew up, I'd do it full time! I was attending the Women of Color in STEM (Science, Technology, Engineering and Mathematics) Awards conference, where I would be receiving an award for my pioneering role in technology, and I was focused on making my next career move after the military. Being at this conference was perfect timing and just what I needed to help me make my decision. There were plenty of workshops addressing career transitions, the career fair was full of great information and the networking opportunity was out of this world!
I was trying to decide between federal law enforcement and physical therapy. I felt either profession would be fun and provide the stability I had become accustomed to with a military career. I was racing down the hall desperately trying to make it to one of the most popular breakout sessions of the conference: Women to Women – Up Close and Personal. It always filled to capacity and I was told several times that I needed to get there early if I wanted to get a seat. By the time I got to the breakout session, it was full and the door was being closed. Decked out in my dress blues, I immediately started to BEG!!! I mean, ask very passionately, to be let in. The conference coordinator shook his head, stating that the session was filled beyond capacity and he couldn't let in any more people. "But I'm a Marine", I pleaded! In that moment, a few more women approached and joined me. My granny always said, "A closed mouth don't get fed!" Before long, the coordinator was so overwhelmed with what had grown to be a group of about 20 women, that he let us all in and set up an additional 4 tables! Before we started, we were given instructions to select a table captain. All eyes quickly landed on my shiny silver captain's bars! Needless to say, I was quickly pronounced the table captain. We had an amazing time at my table, and I wrapped up the summary of our lessons learned by chanting Be Bold, Be Confident, Be Prepared. As I repeated it a second time, people started to join. By the time I finished, the entire room was chanting with me! The energy in the room was amazing and every woman in attendance looked like they were ready to take on the world!
A few hours later, a couple of the women who were at my table, walked up to me and said, "We were so inspired, we're all going for our Plan A!" I exclaimed, "That's GREAT!" And in my head all I could think, was that I inspired them to go for their Plan A, yet I wasn't going for mine! In that moment, I knew my time had come…it was time for me to make my gutsy move. I'll admit, it was a little daunting. I wasn't just a young single person out here. I had a partner and 11 year old and my Mom living with me! I was head of household and getting ready to end an amazing career and quite a great job to take a HUGE risk. But, I knew, I could keep waiting for life, or I could create the life I wanted! When I really looked back at my experiences, I hadn't achieved any of my accomplishments playing it safe. I was ready to go make a "Gutsy Move" and go for MY Plan A! As a police officer, Marine, combat pilot and now entrepreneur, I knew how to create a plan that looked at the dangers, mitigated the risks and navigated around the obstacles. A Gutsy Move isn't a haphazard decision you make without regard to the apparent risks and dangers. It's about taking action, on what you know in your gut is the right and takes GUTS to do! Taking action means creating and executing a plan to realize your goal. When you try to explain your "Gutsy Move" to people around you, most of the time, they think you're crazy. How many times have you told someone you can't explain it, it's just a gut feeling. How many times have you gone against your gut just to painfully find out later that your gut feeling was right? You wouldn't believe how many people tried to talk me out of leaving the military and starting my won speaking business. They just couldn't understand why I would want to leave the security of a paycheck and benefits and take such a huge risk. I even had a Colonel tell me that motivational speakers really weren't happy people; they just looked happy on stage!
Bill Gates dropped out of college and we now have personal computers in millions of households – Gutsy Move. Tyler Perry was so determined to be a successful playwright that he lived homeless in his car for two years, with no guarantee of success – Gutsy Move. Warren Buffett, his investing principles rebelled against the normal practices – Gutsy Move. It applies to the business world just as much. Corporations like Google, Zappos and Starbucks have been making Gutsy Moves. AOL, Blockbuster and Kodak took the safer route. Kodak even had the opportunity to launch digital technology but decided they were a "film" company. Every moment is a choice. I loved it when I heard Larry Winget say, you have to be "willing". What's YOUR Gutsy Move? What are you willing to do to make your dreams and goals a reality? 
To check fees and availability on Vernice "FlyGirl" Armour, call Eagles Talent Speakers Bureau at 1.800.345.5607.