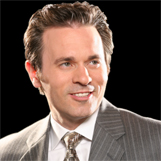 Joshua Seth
Internationally Acclaimed Entertainer, Speaker, Author & Voice Over Actor
X
Program Descriptions
Mind. Your Meeting
Morning Meeting Wake Up!
Start your day with an entertainer that will energize and challenge your crowd to learn, retain, and assimilate new experiences in ways they never thought possible.

Inspire your group to open their minds with Joshua Seth's jaw dropping accelerated learning presentation, "TRUST. LEAN IN. IMAGINE."

Your attendees will be guided through a visualization exercise that reveals hidden thoughts, hopes, and dreams. Team members will achieve the impossible by literally lifting each other to new heights. And everyone will experience a shared vision of the future that will bring them to their feet.

THE TAKEAWAY When we trust each other, lean in, and most of all dream big... we can make amazing things happen. Together.

It's an electrifying jolt of infectious energy and truly eye opening content that will change the way they approach the day.

Dynamic, Customized, Thought-Provoking Fun

Mind. Your Meeting
Headline Entertainment!
The Most Amazing Magic Is The Magic of Your Mind IMAGINE a highly interactive, genuinely amazing, flat out funny, customized Psychological Illusion

Show that will be the highlight of your conference or corporate event. Joshua Seth creates an atmosphere of mystery and laughter that will absolutely astonish you. Minds are read, predictions come true, and your imagination is challenged beyond belief in this one of a kind show.

FEATURING
Customized Routines
Lots of Audience Interaction • Team Building / Trust Stunts
Demonstrations of the Power of Your Mind •Entertaining and Thought Provoking Content

THE MESSAGE When we all put our minds together we can achieve amazing things! Dynamic, Customized, Thought-Provoking Fun
Joshua Seth is an internationally acclaimed entertainer, speaker, author, and voice over actor. As a headline entertainer, he's won awards from Hollywood's famed Magic Castle and was nominated as "Best Male Entertainer" and "Best Live Variety Show" by Campus Activities Magazine for his mind-blowing mystery entertainment.

He's starred in four of his own prime-time TV specials in Japan and South Korea, and performed at over 2,000 events in over 30 countries, making him a real life International Man of Mystery. As a speaker and author, he's published two books on personal improvement, peek performance, and stress management for corporate wellness. He's spoken at hundreds of events for Fortune 500 companies like Siemens, Pfizer, Ernst & Young, Deloitte, and Allstate.

And as one of Hollywood's top voice actors Joshua has given life to hundreds of commercials, thousands of promos, and over 65 TV series and feature films. Audiences will recognize Joshua as the starring role of "Tai" on the hit TV show and Movie "Digimon", as various voices on Spongebob Squarepants, the announcer on The Batman, and the title role in the critically acclaimed anime movie Akira, to name a few.

Joshua Seth trained as a performing artist at New York University's "Tisch School of the Arts" in NYC. He lives on an island on the Gulf coast of Florida with his wife and two children and enjoys paddle boarding with dolphins when not on tour.