Former White House Director of Events and keynote speaker Laura Schwartz spoke with news anchor Elaine Reyes last night about the Republican National Convention on Central China Television (CCTV).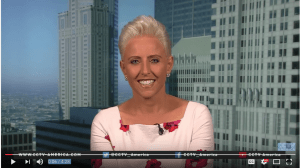 The two political pundits discussed the first day of the convention providing their thoughts on a variety of topics and events that occurred throughout the day.
"It's been subdued, quite honestly," said Schwartz, when asked about the general mood of the convention.
Laura added that there will be a lot of roars and cheers during tonight's convention speeches as United States delegates from all states and territories will talk about their respective states, jobs, and economic policies.
Schwartz has attended every Democratic National Convention since 1996, and every Republican National Convention since 2008. She has seen White House events and conventions from deep behind the scenes, and will be on the floor of the convention tonight collecting more information on the Republican candidates and their supporters.
As an experienced political figure, Schwartz is able to provide any organization with superior leadership and networking skills necessary for success.
For more information on booking Laura Schwartz for one of your events, check out www.eaglestalent.com or call our office at 1.800.345.5607.