Just to be clear, we're not making any political stances or predictions for the upcoming presidential race! Fact: President Obama has recently announced that he is filing papers to launch his 2012 presidential campaign. Result: This is great news for Reggie Brown as there will certainly be an increase in requests for appearances as the president.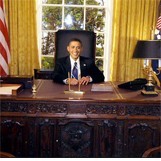 No matter what your political views are, you are sure to enjoy Obama impersonator Reggie Brown. Below, is a video of Reggie/Obama doing his weekly address. This video is from March, 2011. We'll bring you more of these as they roll out in the coming year.
[youtube]https://www.youtube.com/watch?v=EbA1Uv6StL4[/youtube]
Reggie Brown is a ringer for President Obama. He can deliver the perfect keynote address mixed with political banter that will have your organization rolling with laughter.
If you would like to book presidential impersonators (Obama, Clinton), you will also like:
Steve Bridges
Every American boy is told they might grow up to be President of the United States. Steve Bridges has done just that. He does hilarious impressions of Obama and Clinton.
Tim Watters
If Bill Clinton and Tim Watters were in the same room, it would be practically impossible to tell the two apart. Tim looks and sounds like the real deal. Watch his video here.