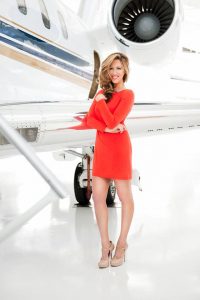 To celebrate "What Will Your Legacy Be" Month, Eagles Talent had an incredible interview with one of our most empowering speakers, Amelia Rose Earhart.
While being named after Amelia Earhart did heavily influence her fascination for flying, Amelia Rose Earhart didn't anticipate where these new wings would take her!
The legacy of her namesake inspired Amelia Rose each day to follow in her footsteps, and now her journey around the world has transformed her outlook on life forever. In her keynote presentations, she uses her experiences and relatable stories to challenge her audiences to discover their own identity and passions.
In this Eagles Talent Podcast, host Ari Frangias talks with Amelia about her struggles throughout the flying process, her accomplishments, and last but not least, a wonderfully unforeseen answer to what she wants her legacy to be in honor of "What Will Your Legacy Be" Month.
---
Below is the recap video followed by the full podcast:

To Book Top Inspirational Amelia Rose Earhart:
Call Eagles Talent: 1.800.345.5607
Or click here to visit Amelia Rose Earhart's keynote speaker profile page.
You can subscribe and listen to all of our podcasts on iTunes by clicking here.