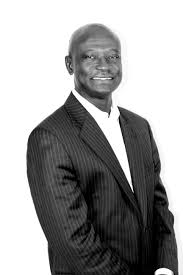 For a long time in this country, African Americans were almost always subjected to low wages and poverty. Still, they were able to break free from impoverishment and demand an equal chance at attaining wealth. This remarkable resilience inspired people from all walks of life to raise their own bar, and set their own terms. Motivational Speaker and author Albert Mensah tells an astonishing story of how Dr. King's speech on poverty inspired him to make his dreams a reality.
The last major speech Dr. King delivered, four days before his assassination, was on poverty at the National Cathedral, Washington, D.C., on March 31, 1968.  Dr. King's sermon entitled Remaining Awake through a Great Revolution contained the quote below:
"We are challenged to rid our nation and the world of poverty. Like a monstrous octopus, poverty spreads its nagging, prehensile tentacles into hamlets and villages all over our world. Two-thirds of the people of the world go to bed hungry tonight. They are ill housed; they are ill nourished; they are shabbily clad. I've seen it in Latin America; I've seen it in Africa; I've seen this poverty in Asia."
In my speeches, I remind my audience that I was one of the people in Africa, referred to by Dr. King. My entire village was part of the two-thirds of the people of the world who went to bed hungry many nights.
My father was born in those same conditions. My grandfather was born in those conditions. Indeed, all of my ancestors were born in those conditions and that was my heritage. By any Western standards, the assumption would be that I would be chained to that kind of life, as would all of my descendants. Opportunity for improvement was almost nonexistent. Sounds pretty depressing doesn't it?
This is how I raised the bar from my circumstances:
A clear vision is critical to success and effectiveness- if you have no vision; there is nothing to tie your objectives to and nothing to help you measure your performance or progress. Dr. King had a clear vision to help African Americans get real freedom and human dignity; and to rid themselves of poverty.
Vision can transform the worst of circumstances–it is a fact of life that people are not born on an equal playing field. Some begin their lives in better circumstances than others, and they had little to do with those circumstances: their parents and ancestors get that credit. It is a reality of human existence. Dr. King's vision of raising the bar for African Americans and all mankind helped ME be able to come to America and make my dream a reality.
Some would say people who are born into great poverty or other circumstances have zero opportunity and no hope. But that idea is truly wrong! Many people have escaped horrible conditions on the back of a powerful vision, because an authentic vision has the power to pull people out of their circumstances and pull them toward a better life. I am a testimony of this. My story illustrates this point. Dr. King preached this point daily.
My circumstances made me better, not bitter.
I got clear on what I really wanted–seeing my first cinema at the age of 8 in that parking lot-turned-into-a -theater with a white bed sheet as the movie screen. Seeing every American in that movie wearing shoes was a life-changing revelation. You see, I had never owned a pair of shoes, and from the moment I saw that movie, a vision formed in my mind about going to America, the land where everyone had shoes.
The "want-to" factor had been created in my mind, the dream of a better life ahead had been created and it changed my life.
I have taught these concepts to executives all over the world and have received phenomenal letters that testify about how they work. It's amazing how transforming this discussion on opportunity can be, when you really focus on it and apply these thoughts and principles to your life.
Dr. King had a dream to raise the bar for African Americans in this country to be treated equally, for African Americans to get their fair share of quality education, fair housing, and for them to be free to live decently in America.
I had a dream of coming to the same America to have a better life for my family, to escape the same poverty he dreamed about getting African Americans out of and me.
Today I live in America as a very successful businessman. With the help of some of the audience members who heard me speak, including the Rotary, of which I am now a member, my village now has electricity and running water. This is possible because Dr. King showed me how to raise the bar.