8 Types of Professional Keynote Speakers and Entertainers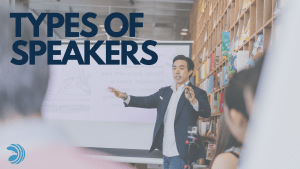 At Eagles Talent, you can select from a Menu of Keynote Speakers and Entertainers. If you have specific talent in mind for your upcoming event, connect with one of our talent consultants and collaborate. LiveChat with one of our team members or contact us here.
Did you know that there are 8 different types of professional keynote speakers and entertainers?
As a meeting planner, it's important to know the various types of presenters to appropriately fill the slots of your conference or meeting program. Remember, different types of speakers will produce different results. We can help you make a choice that will have your audience leaving with a feeling of being more educated, more positive, more aware of their business and inspired to contribute more to the team. Making these kinds of decisions, especially for a new meeting planner, can be overwhelming, which is why we are always there to help.
Below, we will walk you through eight various types of speakers and entertainers.