Virtual Town Hall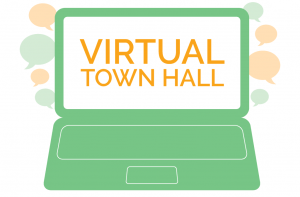 Need help NOW? Connect with our  team using LIVECHAT or email us at info@eaglestalent.com.
In-person town halls are an incredible experience, and virtual town halls are, too, with the right topics and presenters/celebrities.
When you go virtual with a town hall style event, just think of how many different people you can have access to, especially when you have people on different sides of the country and complicated schedules.
In addition, many theatres for town halls have limited seating–think about how you can now reach even further with your event. Not only can you connect this with your community, but you can reach outside of it as well. In some cases, you can also consider doing a hybrid event, and there are many different combinations:
Where the speakers are at the location, but the audience is virtual

Perhaps you're streaming the in-person event

Or you want to bring a specific presenter in who's schedule doesn't allow them to be there in person
Virtual town halls can make a great subscription idea for your group. Even better, you might even consider offering an on-demand recording as part of a paid subscription. The options for bringing in a celebrity, musician, news personality are endless. Think about how you can get a whole cast together from a popular TV show or movie. Maybe you want to host a hot-topic political event, or something educational to promote change and awareness. 
Connect with us today to begin collaborating on the possibilities to create your virtual town hall.