The 'Ideas Center' to Present Keynote Speakers
Welcome to the Speakers Bureau IDEAS CENTER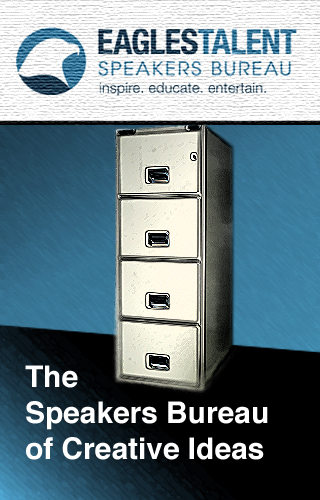 Scroll Down for creative ideas.
We know that every conference, meeting, and event is unique. While many organizations contact us in need of motivational speakers, and business leaders, we also LOVE to guide you and provide creative ideas when you're planning special programs like a lecture series and expert panel session. We have a passion to help you find that perfect speaker you just watched on the morning news -- or on a TED Conference video.
For over three decades, our program experts at Eagles Talent Speakers Bureau have been assisting meeting planners, educational institutions and company executives create the perfect program and bring in keynote speakers to make their event memorable, thought provoking, entertaining, educational, and inspiring.
In our Idea Center, you'll find different type of programing ideas and the many ways you can use a professional speaker, athlete, social entrepreneur, or celebrity. If you have a question on a specific guest speaker or entertainer that is not listed on our speakers bureau site, let us know. Our site contains a portion of the top keynote speakers. We have an extensive database containing thousands more.
If you would like personal guidance from our team of speaker program experts, Click here or call us at 1.800.345.5607.
Creative Ideas - Types of Professional Speakers
Additional ideas for keynote or breakout-session speakers
Top Technology Speakers. Learn who are the top recommended and booked speakers in technology who are talking social media and marketing, branding, the latest digital platforms, and big data.
Top Innovation & Creativity Speakers. Learn about the top recommended and booked speakers in innovation and creativity. Featuring entrepreneurs, inventors, musicians, artists, military personnel, and more.
Top Sales Speakers. Increase your team's profitability and productivity by learning from the best. Get help with strategy, training, and techniques.