In light of June being Great Outdoors Month, we're sharing one motivational speaker each week that makes attendees want to go outside and tackle their goals in a big way!

---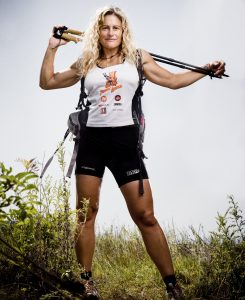 Robyn Benincasa is an adventure racer, CNN Hero, former corporate sales expert and full time firefighter who advises organizations on building World Class Teams of their own! Over the years, she has accomplished more than she could have ever imagined despite the limitations she faced. For the last 20 years, she and her teammates have been competing in the most unique places on earth–The jungles of Borneo, the Himalayan peaks of Tibet, the rivers of Fiji, to name a few. Throughout these experiences, she teaches extreme teamwork, leadership, and how to master the skills required to inspire a group of semi-exhausted people through a seemingly endless series of checkpoints, working against crazy deadlines, in constantly changing conditions all in the pursuit of achieving a huge goal. It is through these grueling yet exciting challenges where growth is made, both mentally and physically.
Furthermore, as a keynote speaker – she brings a new level of energy to the stage. She has various successful speaking programs that focus on leading through change, human synergy, commitment versus compliance, and much more. On human synergy, Robyn says, "It's that magic that allows groups of ordinary people to accomplish extraordinary things together." Additionally, her New York Times best-selling book How Winning Works, has been reviewed as "an excellent resource for all business owners on approaching challenges with a team mentality." This concept can apply to any organization or business looking to work together in order to succeed!
Robyn is the perfect addition to any event that needs a little extra motivation! Moreover, we recently had the pleasure of interviewing Robyn for our Eagles Talent Podcast–premiering next week.

---
For more information on booking Robyn Benincasa, email [email protected] or call 1.800.345.5607