Starting today — and every Tuesday, we will highlight the top 10 speakers on our YouTube channel who inspire, educate and entertain!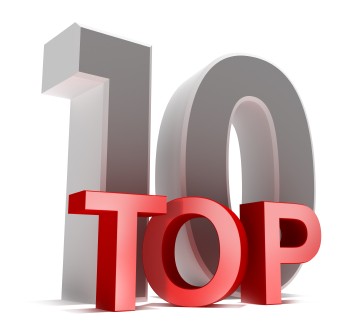 Here is our top 10 list of the most motivational speakers on Youtube!
1. Jim "The Rookie Morris
Jim Morris is the inspiration behind the Walt Disney blockbuster film, "The Rookie". Jim uses his inspirational story of fulfilling his goals and dreams to connect with his audience and motivate them on an intimate level.
2. Jay Blake
After an industrial accident left him without sight, smell, and taste, Jay Blake was forced to rebuild his life at the age of 31. Through determination and a positive attitude, Jay became the world's first legally blind crew chief. His heart-wrenching story of overcoming adversity is sure to motivate anyone.

3. Christine Cashen
Christine Cashen is a keynote speaker and expert on handling conflict and reducing stress. A recent inductee of the Speaker Hall of Fame, Christine uses humor to both engage and energize her audience while motivating them to increase their productivity.
4. Janine Shepherd
After a devastating cycling accident in which she was told she would never be able to walk again, Janine Shepherd used her fighting spirit to defy the odds and get back on her feet again. Her story of courage and strength will motivate any audience.
5. Anne Mahlum
Anne Mahlum is the founder of "Back on My Feet", an organization targeted towards homeless people that uses the power of running to help them make real changes in their lives that impact their futures in a positive way. Anne's story of finding a purpose in life and helping others is sure to motivate people of all ages.
6. Gian-Paul Gonzalez
Gian-Paul Gonzalez is a high school teacher from New Jersey who used two words to inspire and motivate the New York Giants and countless organizations, "ALL IN". He is a gifted motivational speaker who uses the power of commitment to inspire audiences to "fully commit" to life.
7. Anthony Melchiorri
Anthony Melchiorri uses his 20 years in the hospitality industry and unmatched ability to find solutions to perplexing problems as a tool to motivate audiences to push forward in whatever career they aspire. His fast climb to the top of the hotel industry is sure to motivate all audiences.
8. Walter Bond
Personal development and peak performance are just a few of the things that drive Walter Bond. Known as Mr. Accountability, Walter uses his hard work and dedication mentality to motivate audiences to reach peak performance in their respective industries. 
9. Karen Jacobsen
Karen Jacobsen is known to most as "the GPS girl" with her voice being featured in most navigation systems as "Australian Karen". An accomplished and award-winning singer, Karen strives to motivate and inspire the best in people and create a road map for their future.
10. Jon Gordon
A best-selling author and motivational speaker, Jon Gordon provides audiences with positive strategies that can be applied to both life and work. Jon motivates audiences to take control and be leaders in both their work and private lives.