Claire Berger, an extremely successful keynote speaker with a career in comedy that spans over 25 years, including a stint with Chicago's legendary Second City, she has kept audiences entertained during the taping of more than 65 different television shows. Her article below shows five reasons why its important to include humor with any job interview.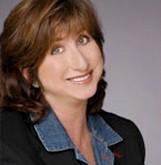 People often shy away from bringing humor into job interview for fear of looking foolish or unprofessional. Employers want to hire people with positive energy and nothing communicates this more effectively than a sense of humor.
My brother's proudest achievement in college was performing as Reggie, the Redbird, our school mascot. He even put this job on his accounting resume under 'professional experience.' It never failed to jump off the page and buy him at least five more minutes in the interview chair and communicated Bob's sense of fun. He was hired at his dream accounting firm where he still works to this day.
If you are nervous about using your sense of humor as a marketing tool, consider the following:
Top Five Reasons Humor Belongs (in your next job interview):
1.      Stress Buster – Laughter is medically proven to release physical and emotional stress. A good belly laugh aerobically exercises every large muscle in your body and you don't have to wear spandex, which takes the concept of business casual way too far anyway.
2.      Improves Work Environment – Unexpected fun brings unexpected results. When a prospective employee communicates a positive spirit and a sense of joy about their work, the effect is magnetic.
3.      Connects People – Humor enhances interpersonal relationships.  Cubicle walls crumble when people relate to each other with a renewed sense of humor. Ask any sales man/woman – Laughter is the most effective sales tool they've got. Think of yourself as a sales director and your product is YOU. Don't you want to tap into every resource you've got to make that sale?
4.      Increases Productivity – Happy employees are productive employees. Cold cash incentives are nice, but most professionals will tell you a positive, joyful work environment also holds an important appeal. Remember this when you are negotiating your contract.
5.      Fuels Creativity- Freedom to think 'outside' the box often produces profitable results. When you are allowed to bring your inner child to work productive fun is guaranteed to follow. Try to think of fun ways to tell a prospective employer who you really are.
If you'd like to bring Claire Berger into your event to inspire and bring happiness to your audience, contact Eagles Talent Speakers Bureau at 1.800.345.5607.

Go ahead … click the Eagle.