2014 has been a great year for our top ten lists! These lists have provided creative opportunities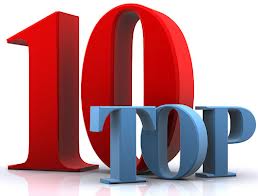 to get to know our speakers better and find out which ones are perfect for your events. We have compiled a list of our most popular top ten list featuring speakers who cover a multitude of topics. Check them out here!
1. Who are the Top 10 Business Keynote Speakers of 2014?
Business Speakers are sought after for their business expertise, strategies, content in their best-selling books, and knowledge as a thought leader. These speakers are former or current CEO's, entrepreneurs, experts in sales, customer service, team building, the economy, and leadership. Our top 10 list is compiled from the top requested and booked speakers. These business speakers consistently get great feedback from conference, conventions, and business meetings (for both corporate and associations). If you're not familiar with these business speakers, you should be because they are making a difference and providing value to so many organizations. Interested in learning more about their keynote presentation, client testimonials, fees and availability, connect with Eagles Talent Speakers Bureau today at 1-800-345-5607. Read more here!
2. Top 10 Motivational Speakers 2014 – Mid-Year Review
Here is our mid-year review of the top 10 motivational speakers who are putting (success) action steps into the mind of audiences. These professional speakers are former athletes, real people with inspiring stories, business & thought leaders, and "do-good" speakers with exceptional content. These are only a handful of the top Motivational Speakers on our speaker bureau roster. This top 10 list is generated from speakers who are some of the most popular and requested, as well as the most booked. If you would like to learn how to create an amazing event with a top keynote speaker, click here. Read more here!
3. Top Ten Most Inspirational Women Speakers
Women's History Month was celebrated in March and we here at Eagles Talent thought that it would only be fitting to put together a top ten list of some of the most inspirational women speakers. These ladies are nothing short of phenomenal, constantly defying the odds and breaking down any barriers that get thrown in their way. Read more here!
4. Top Ten List of Olympian Speakers
To coincide with the Winter Olympics that were held in February, we here at Eagles Talent put together a list of our Top 10 highly recommended Olympian Speakers. These speakers are sure to inspire you with their tales of overcoming adversity, determination, and triumph. Read more here!
5. Our Top Ten Most Empowering Quotes for the Month of July
July has been a month of empowerment, with many nations celebrating their respective Independence days! In honor of the last day in July, we put together a list of the top ten most empowering quotes from highly recommended keynote speakers! Read more here!
6. Top 10 Adventure Speakers For American Adventures Month
The month of August was officially American Adventures Month. To commemorate, we compiled a list of Adventure Speakers who help audiences all over the world to break free and discover their true selves. These speakers have years of insight and expertise on teamwork, dedication, and perseverance. Most importantly, they are perfect for every event! Read more here!
7. Top Ten List of African American Speakers
As Black History Month arrived, we wanted to share our top ten list of African-American speakers who will motivate and inspire you all year round! These inspiring speakers represent topics ranging from education,business, diversity and more. Read more here!
8. Meet Our Top Ten Dummies, for April Fools!
This April Fools we decided that it's only appropriate that we dive into our entertainment vault and put together a list of our top ten favorite dummies, as well as their ventriloquists. This lists features some of the most popular entertainers who have performed on America's Got Talent. These hilarious puppets along with their owners are sure to show your audiences a good time. Read more here!
9. Celebrate International Nurses Day with Our Top Ten Nursing Keynote Speakers
In Celebration of May 12's International Nurses Day, we decided to celebrate the contributions that nurses make to society, with a compiled a list of our Top Ten Nurses who are also remarkable keynote speakers. These healthcare professionals are perfect for any event. They are sure to motivate your audiences and inspire them to achieve new heights. Read more here!
10. Celebrate Liberation, With Our Top Ten Most Empowering Speakers!
While many countries were celebrating their respective Independence Day celebrations in July, we here at Eagles Talent Speakers Bureau compiled list of our top ten most Empowering Speakers. These speakers are sure to inspire your audience to invoke change in their life and build the leadership skills needed to break free of barriers in the workplace. Read more here!