We recently noticed a trend of clients requesting this speaker who we haven't booked yet. Their interest reignited ours and led us to the question…
"WHO IS CHAD PORTER?!"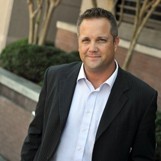 Chad Porter is a keynote and inspirational speaker from North Carolina.
As an adolescent, he was a successful student, athlete, and the president of his ninth grade class. His ultimate goal was to be a professional athlete.
However at only 15 years old, he experienced a life-changing event while water skiing with the Ski Heels stunt team at Tucker Lake near Raleigh, NC. On that day, Porter was wading to shore when one of the team's boats was accidentally shifted into reverse at full speed mangling his legs. His right leg was salvaged through many surgeries. His left leg was amputated at the knee.
Although he was at first devastated, Porter was determined to show that he could still live a great life despite his tragic injuries!
After much physical therapy and support from his family and friends, he learned how to walk again and even played on his high school's basketball and football teams.
While attending the University of North Carolina Wilmington, he excelled at intramural sports with able-bodied athletes.
Today, he travels around the country to speak to children, teenagers, and adults of all ages sharing his stories of challenges, and how you can use his lessons in your own life.
For information on booking a keynote speaker for one of your events, check out www.eaglestalent.com or call our office at 1.800.345.5607