Last night was the awards show of all awards shows–the CNN Heroes Awards. Once a year, CNN and host Anderson Cooper recognize (with the help of nominating and voting) amazing people who have, in many cases, taken something tragic and turned it into a celebration of life. These people have created organizations bigger than themselves, helping hundreds of thousands of people. Not only have they brought an awareness to often 'not talked about' issues — but they are offering solutions (and helping one person or community at a time). I would bet there was not a dry eye in the theatre or for anyone at home watching on TV.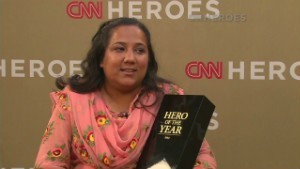 What's exciting is that the CNN Heroes show is a tremendous platform for these Heroes' organizations to gain exposure and much-needed financial support to continue their efforts. This show has allowed the heroes the opportunity to be in the spotlight–and without a doubt, for many of them, to continue on the platform as top motivational speakers–allowing them to share their personal story (such as Doc Hendley, 2010 CNN hero for Wine to Water, and Taryn Davis, 2011 CNN Hero for American Widow Project). It's hard to say which (or how many) of these wonderful individuals will also become keynote speakers, but we will certainly keep an eye on them as MANY organizations (corporate, associations, non-profit, educational groups) will want to hear their stories and be inspired.
—————————————————————————
For more information about how motivational speakers like the CNN Heroes can impact your event, contact Eagles Talent Speakers Bureau at 1.800.345.5607.
—————————————————————————-
Here's a list of the 2012 CNN Hero winners from last night:
Pushpa Basnet is an amazing Nepalese woman who began a children's center to provide support (education, housing, medical healthcare) for children who have incarcerated parents. She was named 2012 CNN Hero of the Year.
Wanda Butts
During a drowning accident, Wanda Butts lost her son. To celebrate his memory, she began a nonprofit organization called the Josh Project, which teached nearly 1,200 kids (mainly minorities) how to swim.
Mary Cortani
Mary Cortani took her experience as a former Army dog trainer to a new level. She began Operation Freedom Paws. This is a nonprofit that helps war veterans cope with their PTSD (post traumatic stress disorder) by providing them with service dogs.
Catalina Escobar
In Columbia, where 1 in 5 girls become pregnant between the ages of 15 and 19, Catalina Escobar users her foundation to provide education, job training, and counseling (to more than 2,000 mothers).
Razia Jan
In Afghanistan, there are terrorists who attempt to keep girls from learning. Razia Jan and her amazing team at the Zabuli Education Center fight to provide education for free to almost 350 girls.
Thulani Madondo
Thulani Madondo understands what it's like to struggle in the slums of Kliptown, South Africa. Thulani has faced this challenge head on as he began a youth program to provide uniforms, tutoring, and even meals in the community (for almost 400 children) to break the cycle and inspire these kids to aim high and achieve their goals.
Leo McCarthy
Leo McCarthy's daughter was killed by a drunken driver in 2007. He turned tragedy into a celebration of life by honoring her memory and beginning Mariahs Challenge. This organization provides scholarships to teens pledging NOT to drink while being underage.
Connie Siskowski
Connie Siskowski helps young people who are faced with difficult circumstances…they have to take care of ill, disabled or aging family members. More than 550 young caregivers in Palm Beach County, Florida have been helped from her organization.
Scott Strode
Scott Strode is the poster for inspiration. Not only did he beat his own addition to drugs and alcohol, Scott did it though sports. He took his own lessons one step further by beginning his nonprofit  Phoenix Multisport, which provide free athletic activities along with a sober support community in Colorado. Since 2007 he has helped more than 6,000 people.
Malya Villard-Appolon
Malya Villard-Appolon, a rape survivor, supports victims of sexual violence in Haiti. She has been dedicated to this effort since 2004, co-founding KOFAVIV, an organization that has helped over 4,000 rape survivors. They provide safety, psychological and legal support.
————————————————————————————-
Learn how motivational speakers like the CNN Heroes can impact your event, contact Eagles Talent Speakers Bureau at 1.800.345.5607.