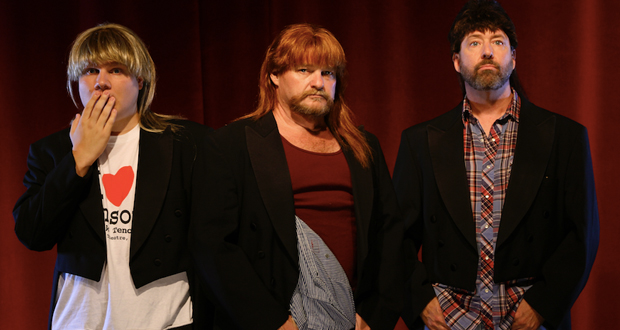 3 Redneck Tenors
Laugh with the boys… Marvel at their music!
X
Program Descriptions
3 Redneck Tenors - A New Musical Adventure - Variety Show
3 Redneck Tenors - Broadway Bound
3 Redneck Tenors - Christmas SPEC-TAC-YULE-AR
Why Book 3 Redneck Tenors?


They are classically trained veteran artists who will take you on a musical adventure featuring a wide variety of musical genres.
Experience opera to broadway, musical comedy and classic favorites with the infamous 3 Redneck Tenors twist.
Enjoy down home laughs with big city music!
The 3 Redneck Tenors are a new breed in the "tenor genre" – their musical comedy featuring classically trained veteran artists is like Duck Dynasty goes to Carnegie Hall - down home laughs with big city music! It has been said that if Larry the Cable Guy, Il Divo, and Mrs. Doubtfire had a baby, that child would be The 3 Redneck Tenors. Written by opera-veteran Matthew Lord with music arranged by award-winning composer Craig Bohmler, and starring Mr. Lord, Blake Davidson, and Jonathan Fruge, The 3 Redneck Tenors were top finalists on "America's Got Talent" and have been thrilling audiences since 2006.

These boys have seen it all, sing it all, and make us laugh 'till we double over, reminding us that in life, it is not just the destination, it's the journey. Get ready for one side splitting ride as we go on an excursion only the 3 Redneck Tenors could have had… delighting audiences with their vocal prowess and a smorgasbord of songs and music ranging from Gospel, to Country, to Broadway, Pop, and Classical.