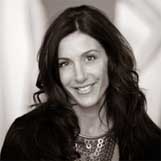 Jessica Herrin
CEO & Founder of Stella & Dot
Traveling From
California
Why Book Jessica Herrin?
As the brains behind Stella & Dot, Jessica has proven just how one woman can go about styling her life with smarts, courage, and tenacity.


After joining two successful tech startups out of college, she went to the Stanford Graduate School of Business, where, at the ripe age of 24, she co-founded the now world's leading wedding site, WeddingChannel.com . Jessica's been recognized for her business savvy even more than her style savvy — Oprah, The Wall Street Journal, New York Times and Forbes have saluted her for her vision. Taking Social Selling to the next level, Jessica's been honored by Ernst & Young and Inc. 500 as a Top Entrepreneur.


She is also actively involved in Young Presidents Organization (YPO) in the San Francisco Bay area. But Jessica is most proud of the recognition she gets from the women of Stella & Dot, who are mirroring her success in reinventing the home business opportunity for the modern woman. Because, as Jessica claims, "nine-to-five just doesn't flatter."
Jessica Herrin, CEO and Founder of Stella & Dot, is a serial entrepreneur who previously co-founded WeddingChannel.com, the world's leading wedding site. With a vision to create a new kind of company that would offer today's busy woman a career alternative, Jessica wanted to use her savvy to help solve the modern woman's dilemma: achieving success and balance through a career you love. Never one to go with the status quo, Jessica felt that the typical home based business just didn't deliver. With lackluster product, high pressure sales tactics, and old school marketing methods, inventory was ending up in people's closets with little profit in their pockets.

Jessica's vision called for an entirely new concept that could guarantee women flexibility, reward, style, profit and fun. With an irresistible product and exceedingly personal service, a proven formula for passionate earning and personal success was born. In 2007, Jessica built a world class team including esteemed advisor Mike Lohner, sales guru Danielle Redner and Blythe Harris as partner and Chief Creative Officer. Jessica and Blythe named Stella & Dot after their beloved grandmothers.

Jessica has been recognized for her entrepreneurial accomplishments and her passion in such national outlets as Oprah, Inc. Magazine (Stella & Dot was named one of the fastest growing private companies of the year for 2010 and 2011),Fortune, New York Times, Wall Street Journal, InStyle, Glamour magazine and more. Stella & Dot was recently recognized at the 2012 Accessories Council Excellence Awards for Retail Innovation. In 2010, she created the Stella & Dot Foundation, raising nearly $1,000,000 to-date towards creating positive change in women's lives through education and economic empowerment and raising awareness for Breast Cancer and Autism. She earned a degree in Economics from Stanford University and attended the Stanford Graduate School of Business. Winner of the 2011 Ernst and Young Entrepreneur of the Year Award, Jessica is also an active member of the Young Presidents Organization (YPO). Additional awards include 2010 Top Ten Female Entrepreneurs from Inc. Magazine, 2012 Top Ten Female CEOs from Inc. Magazine and 2012's 40 Under 40 and Most Admired CEO lists from the San Francisco Business Times. Herrin lives in the San Francisco Bay area with her family.

About Stella & Dot:
Stella & Dot is a boutique-style jewelry and accessories company reinventing the home-based business opportunity for the modern woman through its social shopping business platform. Stella & Dot offers its on- trend, celebrity-coveted product line exclusively through a growing network of trained independent consultants (Stylists) across North America, UK and Germany. They earn sales commissions by selling at private in-home trunk shows and online with a best-in-class e-commerce site including social media tie-ins.