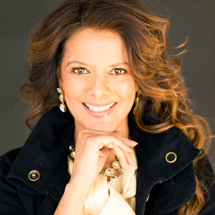 Susie Coelho
Host of HGTV's Outer Spaces, Home Style Guru
X
Program Descriptions
Inspiring keynotes on the lifestyle arena
Why Book Susie Coelho?


She offers guidance on achieving systematic and sustained business growth and expansion in a tough economy.
She has the unique ability to communicate her message on style and design in a way that instills confidence in her audience.
Susie Coelho is the founder and CEO of Susie Coelho Enterprises Inc., a rapidly growing multi-media lifestyle company founded in 1997, focused on television, publishing, endorsements, design and licensing. A representative of an emerging desire for individuality, Susie encourages others to create harmony in every aspect of their lives by creating expressions of their own personal taste and style.
Often referred to as a lifestyle guru, she provides straightforward tips on home style, gardening, entertaining and cooking in a fun and easy to follow way. With a busy career and two children, Susie knows first-hand how difficult it can be to find time for entertaining, cooking and conventional decorating. Having coined the phrase "undecorating," Susie's focus is on having fun with simple and personal styling to achieve maximum impact.

Susie's accessible philosophy and inspiring personality have also made her a favorite choice for on-air style advice. As the host of HGTV's primetime series,"Outer Spaces," she and her team surprised homeowners with beautiful outdoor living spaces. Prior to that, her hit series, "Surprise Gardener," also on HGTV, was a forerunner in the make-over genre. She has hosted a variety of other lifestyle and entertainment shows, in addition to over ten specials for HGTV. She has also appeared regularly as a lifestyle contributor on numerous network shows including NBC's Today, ABC-TV's The View, and Oprah.

As a best-selling author with four books, she is making her mark in the publishing world. Her most recent book, Style Your Dream Wedding (March 2008), is sophisticated and unique, with interactive elements as well as a CD of traditional wedding music. It takes brides through the myriad of style choices to help them find their own dream wedding style. In her Secrets of a Style Diva: A Get-Inspired Guide to Your Creative Side, Susie goes beyond the conventional to give her readers fresh, sassy, and personal advice on how to bring out their creativity. Her Styling for Entertaining: 8 Simple Steps, 8 Miracle Makeovers helps readers create spaces in the four key entertaining areas of the home and garden. Her first book, the best-selling Everyday Styling, sets the tone for her other books and the concept of styling vs. decorating.
Susie's signature global style comes from her East Indian and Portuguese heritage, coupled with her international upbringing in England and France. A true Renaissance woman with international style, she currently lives in the Los Angeles area with her two children.
Books