Ross Shafer is a 6-time Emmy Award Winning Comedian and Writer. He is one of the most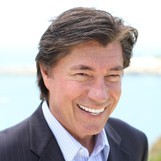 sought after keynote speakers on the subjects of Customer Empathy, Personal Motivation, and Business Relevance. Ross describes the innovations and attitudes necessary for leaders to stay relevant to their customers. He talks about the power of personal and corporate transparency and inspires you to be more responsible and accountable for your efforts and the efforts of your team.
His latest book, Absolutely Necessary will be a career-long resource for business leaders and team members who want to become an important contributor – a valued voice to any organization. Shafer and Michael Burger have studied hundreds of companies to discover the traits and strategies that makes a person valuable to a company. Readers will take away bulletproof tactics that will put them in high demand. You'll learn how the best people premeditate their decisions so they can get buy-in from their constituents. You'll be coached on developing marketplace peripheral vision so that you will able to spot competitors in your blind spots. You will go away with a clear understanding of which Big Data and which Digital Marketing will be the revenue engines of the future.
Shafer and Burger will also motivate you to create trust by making course corrections with humility and urgency. Absolutely Necessary proves that anyone can operate at a world class level if you are able to channel your enthusiasm and energy toward what they call focused reality. Shafer and Burger speak and consult with Fortune 1000 companies worldwide. In their work they are obsessed with who succeeds, who fails, and why? Their tactics aren't suggestions. The advice in this book are MUST DO's to help you and your business succeed!
For more information on booking Ross Shafer for one of your events, check out his page on our website or call our office at 1.800.345.5607.