"The largest mountain ranges on Earth are under the ocean. There are canyons down there that make the Grand Canyon look like a ditch. The biggest features on our planet are beneath the sea."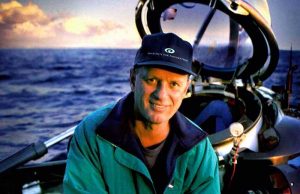 These are the words of Robert Ballard, the distinguished oceanographer who became a household name when he discovered the Titanic in 1985. 
Robert Ballard is best known for his historic discoveries of hydrothermal vents, the sunken R.M.S. Titanic, the German battleship Bismarck, and numerous other contemporary and ancient shipwrecks around the world. During his long career he has conducted more than 120 deep-sea expeditions using the latest in exploration technology, and he is a pioneer in the early use of deep-diving submarines.
As a Goal Setting keynote speaker, Robert Ballard inspires audiences to think outside of the box and follow their dreams. He is also a staunch advocate for pursuing studies in STEM and exploring all that the earth has to offer. In honor of National Ocean Month, Robert Ballard and other Adventurer Speakers can help you achieve your goals and break free of all limits!
To check fees and availability on Robert Ballard, call Eagles Talent Speakers Bureau at 1.800.345.5607.