In honor of Caribbean Heritage Month, we would like to highlight some of our favorite Caribbean dishes from our favorite celebrity chefs, such as….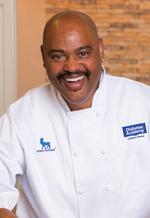 Chef Curtis Aikens regularly entertains crowds with public appearances at food festivals and events with his dynamic cooking demonstrations and motivating speeches. Check out his famous Chicken and Vegetable Curry Dish recipe here!
Directions:
1. In large sauté pan (with lid) heat olive oil, sauté chicken about 4 minutes; add vegetables and onions, sauté 3 to 5 minutes. Now make curry in the same pan.
2. To make the curry powder, combine the cumin seeds, salt, mustard, turmeric, coriander, and cayenne. Grind this mixture together in a coffee grinder.
3. Make a well in the middle of the vegetables (spread them out opening a space in the bottom of pan) add butter as to melt, add curry blend cook in butter about 20 to 30 seconds add yogurt heat, mix through out vegetables.
4. Serve over rice (Optional)
Ingredients
2 large chicken breasts cut into 1 / 2 inch cubes
1 each carrot, parsnip, zucchini and yellow squash peel and diced
4 tablespoons extra virgin olive oil
½ stick butter
1 red onion, diced
2 teaspoons cumin seeds
1-teaspoon salt
1-teaspoon ground mustard
2 teaspoons ground turmeric
½ teaspoon ground coriander
½ teaspoon ground cayenne pepper
1-cup plain yogurt
Interested in booking Chef Curtis Aikens, check out his profile on our website or call Eagles Talent Speakers Bureau at 1-800-345-5607.