Happy Cinco De Mayo! In honor of this day, here is a recipe for delicious fish tacos with creamy chipotle sauce and pico de gallo from Celebrity Chef, Katie Lee!
Ingredients
Tortillas:
Canola or vegetable oil, for brushing on the griddle
16 white corn tortillas
Fish:
1 tablespoon chile powder
1 teaspoon garlic salt
Juice of 1 lime
4 tablespoons olive oil
1 1/2 pounds flaky white fish such as mahi-mahi or cod, cut into 4-ounce fillets
Chipotle Sauce:
1 cup mayonnaise
2 tablespoons chopped fresh cilantro
1 tablespoon honey
2 canned chipotle chiles in adobo
Juice of 1 lime
Pinch kosher salt
Shredded purple cabbage, for serving
Fresh cilantro, for serving
Pico de Gallo, recipe follows, for serving
Pico de Gallo:
2 ripe large tomatoes, finely diced
1 white onion, finely diced
1/2 jalapeno, minced
1/2 bunch fresh cilantro, leaves only, minced
Juice of 1/2 lime
Kosher salt and freshly ground black pepper
Directions
For the tortillas: Brush a hot griddle with oil and heat the tortillas on each side to brown them up a bit. Wrap them in foil to keep hot until it's time to eat.
For the fish: In a bowl, combine the chile powder, garlic salt, lime juice and 2 tablespoons of the olive oil. Toss the mixture with the fish in a shallow container and marinate for 15 minutes.
For the chipotle sauce: In the meantime, combine the mayonnaise, cilantro, honey, chipotles, lime juice and salt in a food processor and blend until creamy and smooth. Transfer the sauce to a container (I like to store it in a squeeze bottle) and refrigerate until ready to serve.
Put the remaining 2 tablespoons olive oil in a large skillet over medium heat. Add the fish and cook for 3 to 4 minutes per side. Remove to a plate and flake with a fork.
To build each taco, spoon some fish onto 2 stacked tortillas (see Cook's Note). Top with some chipotle sauce, cabbage, cilantro and Pico de Gallo.
Pico de Gallo: In a medium bowl, combine the tomatoes, onions, jalapenos, cilantro and lime juice. Season with salt and pepper.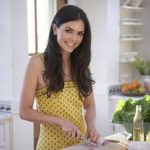 Katie Lee is a renown culinary artist and television personality who specializes in creating tasty, yet, healthy dishes that people from all walks of life can enjoy. Since her rise to prominence, Katie has authored multiple cookbooks and appeared on many different television shows showcasing her culinary expertise. Currently, Katie can be seen on Food Network's shows Best. Ever. and Beat Bobby Flay.
For more information on booking Katie Lee for one of your events, check out her page on our website or call our office at 1.800.345.5607.