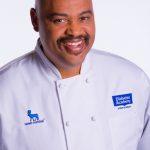 We at Eagles Talent wanted to dig in on the action this National French Fry day, and share a healthy alternative to your traditional fried potatoes.
Celebrity Chef Curtis Aikens crunchy zucchini fries recipe, has a lot more flavor, with a lot less fat!
Chef Curtis talents go way beyond the kitchen. He has created his own produce company, he is a keynote speaker who gives food-related advice on creative and healthy recipes. He has also become a literacy activist for adults, who struggle like he once did.
---
This recipe that has truly changed the snacking game: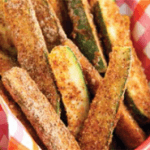 Prep time:  
Cook time:  
Total time:  
Serves: 6
1 egg white

1 tablespoon light mayonnaise

3 medium zucchini, cut into 4 x ½-inch lengths, about 42 pieces

¼ cup plain dry whole wheat bread crumbs

2 tablespoons cornmeal

1 tablespoon white whole wheat flour

1 teaspoon chili powder

¼ teaspoon salt
Preheat the oven to 425°F.

Spray a large baking sheet with cooking spray.

Whisk together egg white and mayonnaise in a large bowl until blended.

Add zucchini and toss until well coated.

Place bread crumbs, cornmeal, flour, chili powder, and salt in a large food storage bag.

Add zucchini, a few pieces at a time, shaking the bag to coat all sides.

Place zucchini in one layer on the baking sheet. Lightly spray with cooking spray.

Bake until lightly golden and crisp, about 15 minutes.
Want to find out how Chef Aikens can spice up your next event? Then check out his profile at Eagles Talent Speakers Bureau, or call 1.800.345.5607