Simon T. Bailey is an author, consultant, and business motivational speaker. He was voted the 'best keynote speaker ever heard or used' by the readers of Meetings and Conventions magazine. For years, Bailey has been helping organizations shift their way of thinking by using his proactive approach.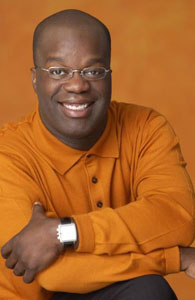 SIMON SAYS: Release Your Brilliance! Simon provides his attendees with the tools they need to succeed in life and business by teaching them to be more introspective. "Everything that you need to succeed is inside you. What life invites you to do is to open the vault of your potential … and if you have everything that you need to succeed then the question is how do I get what's in me–out?" Bailey believes that we all possess brilliance, and, for some of us, it's simply laying dormant, waiting to be released. He shows people how to transform their hidden brilliance into passion and purpose.

Simon received such positive feedback from clients about his keynote presentations that he founded the Brilliance Institute. The Brilliance Institute works with corporations and educational organizations, helping to remove known and unknown barriers that are blocking personal brilliance. He gives recommendations for improvement, and teaches clients how to successfully apply the 'Brilliance' methodology to their businesses.
Bailey's keynote presentations are interactive, practical, and deeply insightful. He gives viewers the fresh perspective they need to overcome their current challenges with clarity. His keynote presentations cover topics such as success, changing negativity, and customer service.
[youtube]https://www.youtube.com/watch?v=J6QSoHWJiNc&feature=player_profilepage[/youtube]
To check availability and book Simon T. Bailey for your next event:
Call Eagles Talent: 1.800.345.5607
Or click here to visit his keynote speaker profile page.