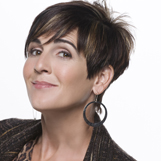 Books

Generations, Inc.
Meagan Johnson
Bright, Funny, Delightfully Obnoxious Generational Humorist
Fee Range: Notes on Fees



$5,001-$7,500



Program Type



- Keynote Speaking

Traveling From:



Arizona


Bio
Meagan Johnson is the co-author of the bestselling book Generations Inc., From Boomers To Linksters Managing the Friction Between Generations at Work. She is the de-facto expert when it comes to navigating the maze of generational quandaries' every organization faces. Quoted by the Chicago Tribune, CNNMoney.com and
» Read Full Bio
Speaker Programs
ZAP THE GAP! How to Make Peace and Profit in a Multi-Generational World
Job applicants are plentiful and unemployment is high but the fact remains that making the wrong generational choice can cost organizations hundreds of thousand dollars a year. Failure to create a multi-generational team that is effective, productive and profitable puts a company's future growth and sustainability at risk. Ignoring the drastically diverse ways generations learn and communicate with each other is tantamount to turning your back on a tsunami.

Zap the Gap; How to Avoid the AFTERMATH
is the perfect addition to your meeting agenda. The program allows audience members to take the information and tools acquired during the keynote and put them to the test. Based upon pre-conference interviews, Meagan creates real-life scenarios that reflect the generational challenges participants are facing in their own industry. Meagan leads the group through an in-depth discussion on how to tackle the more perplexing generational obstacles facing people in their work-life and personal-life today. Members walk away from the program with a workbook that will serve as their generational guide when they return to the office and home.

Co-presentation with Baby Boomer DAD
Based on their best-selling book, Generations Inc.: From Boomers to Linksters, Managing the Friction Between Generations at Work, generation expert Meagan Johnson and corporate culture expert Larry Johnson, present the unique perspectives of a Gen-X daughter and her Baby Boomer dad on how each understands, communicates, motivates and manages different generations existing in the workplace today.
For booking or speaking fees, performance fees,
appearances, and availability, or to BOOK THIS TALENT,
please call us at 1-800-345-5607.