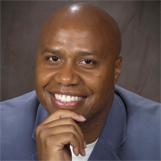 Books

All Buts Stink
Walter Bond
NBA Player and Business Owner, No One Can Stop You But YOU!
Fee Range: Notes on Fees



$10,001-$15,000



Program Type



- Keynote Speaking
- Half Day
- Full Day

Traveling From:



Minnesota


Topics
Leadership
Motivational
Team Building
Basketball/ NBA
Accountability
Bio
Walter Bond is called "Mr. Accountability" because he forces each one of his listeners to learn to be responsible for whatever the situation they are in. Through his programs, workshops, books and CDs, he travels the world teaching that personal accountability, confidence, and success are
» Read Full Bio
Speaker Programs
All Buts Stink
Everyone loves to take the credit but no one likes to take the blame. When something goes wrong, does everyone start pointing fingers and making excuses? Being accountable teaches your team how to manage the benefits of saying, "My Fault." In this program, Walter shares his experience as an athlete and business owner in recognizing when to take responsibility for the good of the team. Taking responsibility should be safe and empowering in order to go to the next level. Accountability unleashes the potential and creativity for the next level of success. Be responsible for your work ethic, thought life, commitment and dedication and you will see that a career and life of continuous improvement is only steps away.

No One Can Stop You, But You
This extraordinarily popular program helps audience members to point the finger at themselves in a fun and safe way. Your audience will return to their careers with the motivation and skills to take responsibility for their own continuous improvement.

Are You Still Unstoppable
With fresh stories and engaging analogies, Walter introduces new techniques that strengthen every member of your team, as well as proven strategies that integrate accountability even more deeply into your operations—leaving your attendees motivated, inspired, and ready to take sustained action.

Leaders: Get Out of The Way
In this program, Walter tells how to turn the destructive dangers of micro-management around with the fundamentals of leadership. Leaders learn how to empower employees to own and be accountable for what they do.

Sell It Like You Mean It!
Walter teaches every member of your team how to overcome objections, incorporate storytelling, and establish him or herself as an expert.

Dominate Right Where Your Are
Let Walter prove that the key to getting ahead lies in their current situation. He explains, "If you dominate right now, right where you are, your superiority will become so obvious that new opportunities and promotions will chase you!"
For booking or speaking fees, performance fees,
appearances, and availability, or to BOOK THIS TALENT,
please call us at 1-800-345-5607.