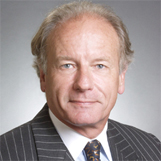 William G. Shipman
Leading Authority on Social Security Reform
Fee Range: Notes on Fees



$20,001-$30,000



Traveling From:



Massachusetts


Topics
Economics
Global Issues
Finance & Insurance
Politics
Global Business Solutions
Bio
William G. Shipman is Chairman of CarriageOaks Partners LLC a Massachusetts-based consulting firm specializing in retirement finance. An advocate of Social Security reform in the United States, Mr. Shipman has testified before the House Ways and Means Sub-Committee on Social Security and co-authored Promises to Keep: Saving
» Read Full Bio
Speaker Programs
Social Security Reform: An Unprecedented Global Challenge
Many Americans think Social Security is an American invention, a social policy unique to our country. They are terribly misguided. Social Security is a child of the Industrial Revolution, and was first implemented in Germany in 1889. The idea of a large government entitlement has spread throughout the world, and now about 70 percent of all countries have systems much like ours. They are all financed through payroll taxes, provide very low benefits relative to costs, and have unfunded liabilities well in excess of countries' sovereign debt. Globally, Social Security is a ticking time bomb. The relevant questions are will it explode or will nations figure out a way to dismantle the bomb. Either way, no one will escape.

How Wealth Produces Poverty And What To Do About It
Social Security benefits are provided by taxing workers' payroll. But as countries prosper, life expectancy increases and fertility rates fall leaving fewer workers relative to retirees. The entire financial structure that supports Social Security is crumbling. This is especially true in Europe and Japan, two very important economies and strategic partners to the U.S. The fertility rate that replaces the population is 2.1. That is, if every woman had 2.1 children then the population would eventually stabilize. Below 2.1, populations shrink, above, they grow. Fertility rates in Europe average about 1.3, while in Japan 1.2. Europe and Japan are shrinking, and at the same time aging; the number of workers relative to retirees is shrinking. Beyond this, Japan's total population is expected to decline by 60 percent by the end of this century. Shipman will share the details that support these points, and will also explain how to avoid the catastrophe they portend.

Why Europe Is Becoming Less Important To The United States
Europe is a strategic and economic partner of the United States. Its success in many way leads to our success. Conversely, its failure can lead to ours. Europe, in fact, is failing. Although there are numerous reasons for this, one is most significant, and not well understood. Europe, Germany specifically, is the birthplace of entitlements. Entitlements are promises to provide benefits to the population sometime in the future, commonly during retirement. These benefits are generally retirement income, commonly called Social Security, and health care subsidies. Giving one a promise of future income allows the government to spend more in the present than it could if it provided the same income in the present. This is not so, of course, if governments funded such promises, but they haven't and they don't. As these promises are made and kept over decades, populations become dependent on them, and somewhat rightfully consider them their right. Nowhere is this more prevalent than in Europe. The problem, however, is that the promises can no longer be kept because European economies and demographics preclude it. Even a casual observer of current events recognizes that governments around the world have made promises they cannot reasonably keep. This is especially true in Europe, although it is true in other regions of the world. The economies of European countries are stagnant, their debts are oppressive, and their entitlement spending is unsustainable. Furthermore, their populations are ageing and shrinking. This is why the United States is looking eastward with the intent of establishing stronger relations with Japan and China. Although this redirection of interest is understandable, it is fraught with its own dangers because Japan is also aging and shrinking. In just 13 years Japan, demographically speaking, will be the oldest country in the world.
For booking or speaking fees, performance fees,
appearances, and availability, or to BOOK THIS TALENT,
please call us at 1-800-345-5607.