Where were you on 9/11?
…Is one of the saddest questions you can ask an American today.
I was 17 years old and though I am from NYC, I was away at school in Pittsburgh. But unlike most students, I didn't go to school that day. I was home, and unfortunately woke up in time to see the second plane crash into the tower. Everything felt cold, quiet and unreal…which is the perfect way I could describe my visit to the 9/11 Museum.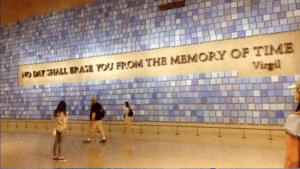 This past August I was accompanied by my father (a retired police officer), my 10 year old niece, and step mother to visit the 9/11 museum. To be honest it was something I had been putting off since its inception. Like most, I felt it would be too painful to experience. And though there were definite moments of emotional suffocation, I am glad I saw it for myself.
Each exhibit took you further underground, descending into painful memories of the last day of so many lives. It felt as if we were walking into a tomb, people bumped into each other — as if they were in a trance. We all were, at times it felt as if you didn't want to breathe too loud, it almost felt like it would be disrespectful.
Whoever was behind the design, tastefully honored all who perished. It went beyond the physical set up, they have a very welcoming, supportive, and extremely empathetic staff. Though I did leave feeling sad about all the imagery, I also felt it is something we should always see, and never forget.
Footage from a 9/11 Exhibit:
______________________________________________________________
But today isn't simply about being sad about all the lost lives. It is also about remembering how we came together as a country to help one another.
We invite you to join us in taking a moment to remember.