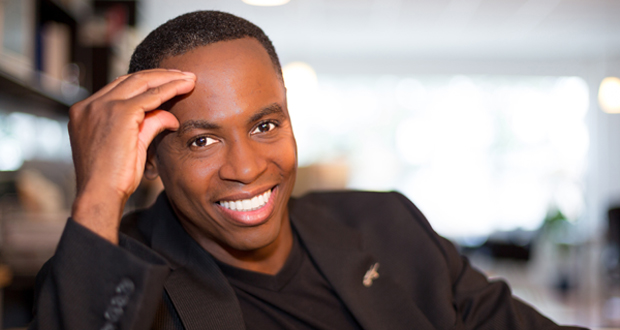 Adolph Brown, PhD
The World's Greatest Edu-tainer
X
Program Descriptions
Success Without Stress: Work-Life Balance™
This presentation fuels leaders to be confident and competent with common sense insight and takeaways that they can begin to put to use immediately. Audience members record new leadership insights and commit to new leadership behaviors in the areas of conflict management, performance enhancement, role of the leader, blended learning solutions, leading change, and coaching for success.

The Coach Approach: Executive Coaching & Corporate Mentoring
This tailored presentation is specifically designed to boost the performance of a company's top management and future leaders which contributes significantly to strengthening the bottom line, improving productivity, and advancing the marketplace position of any business.

Diversity Works: Benefits, Challenges, and Solutions™
This presentation is aimed at getting rid of workplace conflict and building harmony and cooperation at work. This uniquely tailored presentation will take diversity to the next level in your organization by leveraging the variety of differences between people in your organization.
Why Book Dr. Adolph Brown?


He brings a dynamic and fun approach to his customized presentation on cultural diversity.
He offers your audience a high-energy, upbeat and high content performance.
He is a master teacher, business leader, educational/clinical psychologist, and motivator.
Dr. Adolph Brown is the Founder, President, and CEO of The Leadership & Learning Institute. As a former public school educator & credentialed administrator, full tenured university professor, university dean & businessman, Dr. Brown has studied and worked along side highly successful leaders & educators. He has taken his over 25 years experience and has developed core competencies that are expressed in everything successful business leaders and educators do.

Thanks to his hard work, his faith and attitude, and a caring village like you, Adolph has overcome an upbringing of extreme poverty and violence, welfare, fatherlessness, and a single-mother led household to be with you today. Dr. Brown has becomebe one of the world's most popular speakers with his unique ability to inform as well as entertain. He is famous for his practical toolkit and loved for his inspirational messages. He brings " the content and the crazy!". Dr. Brown blends humorous stories with truisms or "REAL TALK" and research to challenge his audiences to live and work more positively. Through his books, audio & video recordings and television & radio talk shows, audiences and individuals continue to love his powerful message delivered in a singular, unorthodox yet down-to-earth style.

As a recognized Master Teacher, business leader, educational/clinical psychologist, anthropologist and motivational speaker, his outrageous and energetic outlook will captivate you the minute he walks onto stage. As a noted business and education humorist, Dr. Adolph Brown entertains you as he relays his professional experiences coupled with his evidence-based & data driven research in his hilarious and heart-warming style. His mantra upon entering each new venue is "Learn More & Laugh Louder!™"

People from all walks of life, from shelf stockers, educators, administrators, and corporate CEO's, have been transformed and inspired by Adolph's presentations and his writings: Championship Habits, REAL TALK, Messages From Granddad, and a children's book titled It's Gonna Be a GREAT Day! Doc's Story. Adolph has a very diverse background in education and business. He is presently on a writing sabbatical from Hampton University where he is a tenured full professor, former chairperson of the department of psychology/education, and academic dean of the graduate college.

With multiple degrees from the College of William and Mary in psychology and anthropology, master's degree graduate study in classroom management & differentiated learning, and doctoral degree work in education/community/clinical psychology with an emphasis in group dynamics, Adolph first discovered his passion for people development whilst working as a middle school educator and later as a diversity & communication consultant. Adolph has traveled and studied abroad, sits on myriad local and boards and advisory groups, and has written extensively on the subjects of child, family, and corporate communication. An often quoted resource, he is the author of three books. Adolph has also served on the National Commission on Diversity and Economic Development whereby he was the facilitator of multiple round table discussions.

Although his workshops and presentations have had an impact on the lives of more than 1 million people over 2 decades in the Corporate, Government, Faith, Educational and Public Sectors, and he has been the recipient of over 300 awards and honors, Adolph still considers his greatest accomplishment to be the happily married husband to Marla and doting father of seven mischievously wonderful children. His favorite past time is still being able to watch Saturday morning cartoons with his children (2 college graduates, a college sophomore, a college junior & a second year Master's in Public Health student), 1 high schooler, 1 middle schooler, and 1 elementary schooler).