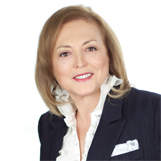 Adriane Berg
Expert in Finance, Aging and Longevity
Traveling From
New Jersey
X
Program Descriptions
Marketing To The Baby Boom And Silver Markets
Healthcare and Aging in Today's Financial & Legislative Environment
Websites, Images Collateral Material & Staff Training
Managing The Intergenerational Work Force
"Tangential Marking": Marketing to the Adult Children of Older Parents
Heads in Beds-What Senior Housing Can Do for the Hospitality Industry
A Business Development Opportunity-The New Look of Old Age
60 is the New 60-How to Attract the Elusive Boomer Market
Rider & Elephant-How to Create Organic Change in Your Senior Care Facility
Why Book Adriane Berg?


Adriane is an innovator in helping companies and non profits reach the vast boomer, caregiver and older adult markets.
She is a versatile and highly credentialed speaker and the Emmy Award winning television host of "IRS Tax Beat."
Speaker and spokesperson: Adriane Berg is one of the most credentialed and recognized speakers in the nation and internationally in the fields of both personal finance and successful aging. Adriane is a recognized expert in lifelong financial security, long term care, and universal design (the physical environments in which we thrive as we age.)

She delivers carefully tailored presentations that make any event memorable. Her presentations employ humor, case studies and extensive audience interaction to get profound and lasting results.

Adriane is a veteran of satellite tours and spokesperson content creation and delivery for companies such as VTech Careline™, and American Express/MBNA , Golden Cuisine Senior Meals, Cognifit and more.

Author/Journalist: Adriane is a New York Times Age Beat Fellow. She is author of 13 books, translated into many languages, including: "How Not To Go Broke at 102: Finding Everlasting Wealth," Wiley, and co-author "F.E.A.R. Factor: 15 Minutes to Your Ideal Retirement" Media host: Adriane currently hosts the syndicated radio show: Generation Bold: The Fountain of Truth, heard on 38 stations nationwide. The show received the 2015 National Mature Media Gold Award.

Adriane is a well-known TV and radio personality, with multiple appearances on OPRAH, GOOD MORNING AMERICA and REGIS. Ms. Berg hosted WABC's Money Talks and FNN's "IRS Tax Beat," for which she won an Emmy.

Entrepreneur: In 2001 Adriane founded Generation Bold, a strategic alliance, marketing and branding group that serves the technology, financial, healthcare, travel, food, hospitality and related sectors. She is also the CVO of Ageless Traveler, industry advisor on the mature traveler, and has been consultant to China, Zambia, AMAR-Mexico, and Malaysia in-bound tourism. Adriane is currently working with the country of Uzbekistan to promote U.S. travel. She was named a delegate to the World Tourism Marketing Summit in Nanjing, China 2004, and to the World Peace Through Tourism Conference in Lusaka, Zambia, 2005.

Law: Ms. Berg is an innovator in the field of longevity, having helped found the National Academy of Elder Law Attorneys and introducing the concepts of longevity planning and longevity law to the financial and legal professions. Ms. Berg graduated Phi Beta Kappa and Kappa Delta Pi from Brooklyn College, and was an Editor of the Law Review, NYU School of Law, where she achieved her JD degree.

Boards: She sits on the Board of Women's Leadership Exchange, the Swellness Group for Reimaging Heath Care, and the Caregiver Calvary for reimaging family caregiving.
Books