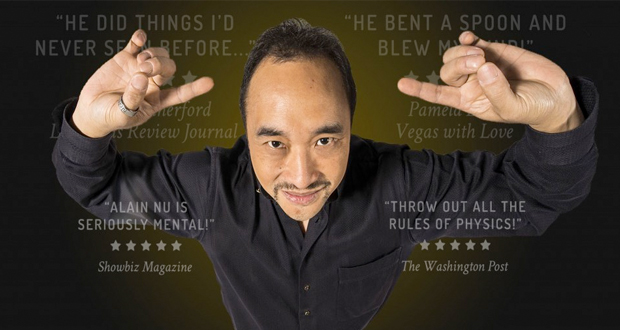 Alain Nu
Extra Sensory Performance
X
Program Descriptions
ESP: Extra Sensory Performance
The Powers of the Mind
Why Book Alain Nu?


Alain will show even the most skeptical audiences the awesome powers of the mind with his amazing and spellbinding talents.
He knows the hidden potential of our minds, and he proves it with every appearance.
Alain Nu is the modern day "Man Who Knows." Captivating audiences worldwide with his talent to amaze and marvel using mentalism, mind power, consciousness, and mysticism, he can hold any sized group rapt with intrigue. Alain is an international performance artist and an entertaining man of mystery. He is a mind­reader, a visionary of the future, and a "you have to see it to believe it" sort of guy. He has starred in his own four­part mini­series for the TLC network, T​he Mysterious World Of Alain Nu,​and has authored two acclaimed books (S​tate Of Mind a​nd​ Picture Your ESP) available on Amazon and in bookstores. Highlights of his career include headlining at Caesars Palace Las Vegas, the Norwegian Getaway cruise ship, having an annual show, T​he ESP in Espionage, at The International Spy Museum, and predicting (with uncanny accuracy) the 2011 Oscars and the 2012 Golden Globe Awards. Living in Washington, DC, Nu has performed for presidents (including both of Barrack Obama's Inaugural Balls), politicians, princes, princesses and other ambassadors/world leaders. Nu's client list consists of many of the leading corporations in the world, including, Facebook, Paypal, Microsoft, Goldman Sachs, Citi, Verizon, Prudential, Liberty Mutual, General Electric, Enterprise, Subway, and many others.