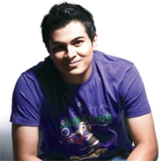 Ankit Fadia
Ethical Hacker, Computer Security Expert and Cyber Terrorism Guru
Traveling From
California
X
Program Descriptions
Hacked
Join bestselling author Ankit Fadia, to see LIVE HACKING Demonstrations of the Top 10 most dangerous Hacking techniques that cyber criminals are today using to hack into your mobile phones, email accounts, websites and company network infrastructure. Take Home: Best Security Practices to improve your cyber security at home and in your office!

Stretch Your Limits
Join the bestselling author Ankit Fadia, to get simple tech tips, apps and advice on how to redefine the way you use technology in the workplace and become a smarter, better and more successful professional or entrepreneur. This talk will help you stretch the limits of technology, get more work done and be more productive in the workplace so that you can find time for all the things you have always wanted to do.
Why Book Ankit Fadia?


Ankit manages to transform normally drab and panic-provoking subjects like hacking and security into something entertaining, engaging and immediately handy, using his simple yet impactful, captivating and articulate style of presentation that is punctuated with entertaining anecdotes and examples.
With the right mix of technical descriptions and real life case studies, his presentation provides participants with real take home value that they can apply to their lives on a daily basis.
The bestselling author Ankit Fadia is a tech junkie who loves tinkering with computers, gadgets and everything tech.

He has hosted a popular show on MTV India called What the Hack!, where he gave tips, tricks and tweaks to get more out of technology and the Internet and now has his own YouTube channel called Geek On The Loose.

Widely recognized as a computer security expert, he has published 16 books, delivered more than 1000 talks in 25 countries, received several awards and trained more than 20,000 people in India and China.

He has a Bachelors degree in Management Science & Engineering from Stanford University and was chosen as a Global Shaper by the World Economic Forum. Ankit loves to travel and has visited 100+ countries.
Books