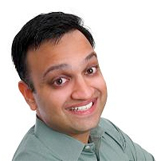 Avish Parashar
Motivational Improviser
Traveling From
Pennsylvania
X
Program Descriptions
Ding Happens! How to Improvise, Adapt, and Innovate in an Ever-Changing World
Business today should be more like improv than standup… Your people are called upon to constantly deal with changes in the industry, economy, market, organization, and technology. This hilarious and energetic program will show your people how to stop fearing and hating change and how to use the power of improv comedy to improvise, adapt, and innovate - no matter what happens!
Improvised Innovation!
How to Unleash Creativity and Leap Ahead of the Competition!

In a world that is getting smaller and smaller and changing faster and faster, innovation and creativity become keys to staying competitive. Organizations and individuals who apply innovation move ahead. Those who don't, struggle and fall behind. In this high-energy, hilarious, and interactive keynote, Avish uses ideas and exercises from improv comedy to show you how to tap into your creativity and use it to unleash innovation to be a "game changer" in your organization and industry.
Why Book Avish Parashar?


As the world's only Motivational Improviser Avish creates a unique, high-energy, hilarious experience that is the perfect way to open or close your event with energy, insight, and hilarity.
Avish's presentations use the ideas and techniques of improv comedy to show audiences how to improvise, adapt, and innovate in an ever-changing world.
Audiences will discover simple but effective tools they can use to automatically make smarter choices that let them not only react to the unexpected, but to find opportunities within the setbacks.
Avish Parashar is an energetic and humorous speaker who uses his 20+ years of experience performing, teaching and studying improv comedy to show organizations and individuals how to deal with the unexpected quickly, effectively, and with a sense of humor. Avish is the author of "Improvise to Success!" and the Amazon best-seller, "Say 'Yes, And!'" He has also created dozens of other products on applying improv skills to business and life.

Weaving together humorous stories, jokes, audience interaction, and improv comedy games, Avish keeps the audience engaged while imparting a key lesson: Planning is Important, but Improvising is Essential! No matter how well you plan, things will go wrong, surprises will arise, and the Universe will throw you a curveball. Your success and sanity are directly related to how you respond these challenges. By the end of one of Avish's presentations you will have key tools to flow with all that life throws at you.

Avish has spoken to the very creative (actors and directors), the very un-creative (accountants), the very casual (college students), and the very business-like (sales professionals). The end result is always the same - smiles, laughs, and a new way of looking at life and business.