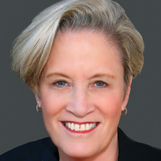 Barbara Bancroft
Health Maintenance & Awareness Delivered with Warmth & Humor
X
Program Descriptions
To Your Health!
Barb Bancroft will discuss the most important health concerns in today's workforce and the implications of self management. Topics include the use of humor and sunlight in boosting the immune system, how to prevent cardiovascular disease with therapeutic lifestyle changes, and stress reduction techniques.

Live a Little, Laugh a Lot
This seminar is "vintage Barb"...chock-full of humorous tidbits about how we can use diet, exercise, sunlight, stress reduction, and other techniques to live a healthier lifestyle.

An Apple a Day: The ABC's of Diet and Disease
A 3-hour overview of diet and disease and other alternative therapies...it literally goes through the ABCs of diet and disease and includes multivitamins, cholesterol, wine, fish, and is full of tasty tidbits, historical highlights, and clinical information that the individual can take home that day and use.

Moon Pies, French Fries, and Thunder Thighs
Barb provides clever ways to burn calories (without a treadmill) as well as clever ways to figure out portion control for weight maintenance and weight loss.

Barb's Best Bets
Barb presents a lively and humorous look at the wonderful world of the nursing. She shares her 30+ years of experience by weaving tales from yesteryear with current nursing and medical progress.
Why Book Barbara Bancroft?


She gives humorous, entertaining and information-packed seminars while speaking on a wide range of healthcare topics.
A highly-informative speaker, she provides a wealth of clinical information which can be applied to everyday practice.
Barb Bancroft RN, MSN, is a widely acclaimed national speaker, noted for her humorous, entertaining and information packed seminars. She is author of four books, her latest, Kiss My Asparagus: An Essential Guide to Nutrition's Role in Health and Disease.
Many people can conduct health seminars, or write books on health, but very few can make them both thoroughly informative and entertaining. Barb Bancroft makes complex health topics easily understandable, appealing and hilarious.
Barb has provided more than 2200 educational and motivational seminars on clinical topics and health maintenance topics to healthcare professionals and corporations throughout the US and Canada. She has been the keynote/plenary speaker for corporate groups such as Smith Barney/Citicorp and the Million Dollar Round Table. She has provided keynote/plenary speeches for healthcare associations including the Association for Practitioners for Infection Control, The National Association of Biology Teachers, The Emergency Nurses' Association, the American Academy of Nurse Practitioners, the Pacific Coast Dental Association, and the Washington State Dental Association.
Barb has held graduate faculty positions at the University of Virginia and the University of Arkansas. She has provided courses on Advanced Pathophysiology, Pharmacology and Physical Assessment to both graduate and undergraduate students. She is currently the Executive Director and President of CPP Associates, Inc., a continuing education firm for corporations and healthcare professionals based in Chicago, Illinois.