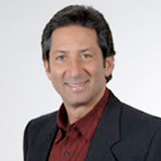 Barry Farber
Sales Guru, Entrepreneur Magazine Columnist, TV Host
Traveling From
New Jersey
X
Program Descriptions
Focus with Farber on Sales
This program will focus on attitude, creative prospecting, questioning and qualifying, presentation skills, selling value and more.

Focus with Farber on Motivation
In this program Farber will discuss breaking through barriers, building and maintaining a positive attitude, the art of continuous learning and more.

Focus with Farber on Sales Management/Leadership
Your audience will learn the traits of great leaders, coaching and counseling techniques as well as how to create a motivating environment and improve sales reps performance.

Focus with Farber on Marketing/Entrepreneurship
Along with marketing and entrepreneurship Faber discusses time management skills, networking, leadership, negotiation and communication skills.
Why Book Barry Farber?


He has real world experience ranging from marketing his own inventions on QVC, representing Major League Baseball players and entertainers with their products, to helping corporations close millions of dollars worth of business.
Barry's keynotes focus on the art of "breaking through" in sales, marketing, customer service and personal achievement and incorporates his martial arts experience into his presentations with an entertaining and inspirational message.
As the president of Farber Training Systems Inc. and The Diamond Group, Barry Farber is a marketing expert who has consulted Fortune 500 corporations for over 25 years. Farber has mentored and trained thousands of salespeople on how to bump their company sales into millions by gaining access to National Retailers and Major Accounts like: Six Flags, QVC, Jets and Giants Stadium, Comcast & many more.

Farber shares his expertise on sales and marketing with his entertaining and engaging style and has captivated thousands and continues to inspire and motivate his audience every day. Some clients include AT&T, American Express, BMW, Chase, ESPN/ABC Sports, Novartis, Nestle Waters, State Farm Insurance, Toshiba, UPS and Verizon.

Barry's consulting and training programs are unique because of his common sense approach to real world concepts that are applicable to day-to-day activities. Some roles that Farber has held include:


Regular guest on QVC selling out unique and innovative inventions since 1997
Broker and agent for the $7 million dollar Evel Knievel roller coaster at Six Flags
Co-inventor and marketer of the FoldzFlat® Pen selling millions in retail and on TV
Literary agent for nine-time world champion skateboarder Andy MacDonald
Black Belt Weapons Regional and National Tournament Champion where he incorporates his martial arts experience into his presentations with an entertaining and inspirational message.
Books