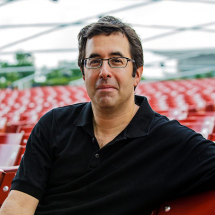 Barry Moltz
Getting Small Business Unstuck
X
Program Descriptions
Getting Your Small Business Unstuck
What you did to get your business to where it is today, is NOT what you need to do to get your business where it needs to be. Businesses growth requires different actions as the market changes. Barry has identified 6 ways that businesses get stuck, causing their growth to slow. By simply making changes to these unproductive patterns, your business can start to flourish again. Areas discussed are sales, marketing, social media, finance, personal productivity, managing employees and customer service.

Escaping the Double Helix Trap and 7 Strategies to Get Unstuck
The business owner's biggest trap is continually flip-flopping their time between selling things and doing things. While the owner is busy trying to make sales, they aren't getting the work done…the exact work that makes money. Conversely, when they are doing the work, the sales activity slows to a crawl. The Double Helix Trap keeps businesses struggling for years and years, or worse…a lifetime.

How Your Business Can Thrive in This Recession – Bounce!
(Motivational) Economic cycles come and go. We have been here before and survived. Cheer the good times with parties, awards and trophies. Mourn the bad times but then let go. Barry demonstrates that developing the resiliency to "bounce" through these cycles of good and bad times determines who will ultimately succeed. Using real life business examples, he shows that with true business confidence, what actions we can take to face our fears, let go of shame and failures, be better risk-takers and define our own brand of success. Making It Personal- Bringing Bounce to Life (Participatory Exercise) We discuss how the principles of Bounce! apply to the audience's personal life. This is an interactive session with a workbook. How Businesses Can Thrive During Difficult Economic Times (Actionable) 1. Matching revenue with expenses. 2. Challenging all your business assumptions. 3. Marketing, sales and substitutions. 4. Finding the people you need. 5. Build customer service as your sustainable competitive advantage.

You Need to Be A Little Crazy To Start and Run Your Own Business
The best way to debunk myths about start-up business is to tell the truth: You have to be crazy to start a business. Entrepreneurs live at the complex intersection of business, financial health, physical well-being, spiritual wholeness and family life. Tidbits of insight will vaporize isolation, encourage self-reflection and refresh the spirit of anyone running their own business.

BAM! Delivering Customer Service in A Social Media World
For a long time, a company's commitment to outstanding customer service began…and ended in its mission statement. The goal of the customer being number one in most companies is not translated into tactics for training the staff or incorporating feedback from their customers. Instead, companies continue to pay sales reps bonuses to bring new customers in the door and only pay minimum wages to the customer service reps to keep them there. This formula results in a revolving door of customers and overall poor service. This is all changing in a 24/7 connected world.

What NOT to Say in a Business Plan
Too often, we get so wrapped up in the business plan that we forget to do the most important thing: Find Customers! In the foreword of The Complete Idiot's Guide to Business Plans, (Penguin) Barry suggests that premeditated business should be outlawed. But even though business plans are mostly meaningless, the process of writing the plan is very worthwhile. This session describes the useful parts of the process and what can be learned by developing business metrics rather than damaging your credibility with worthless projections and overstated promises.

Bounce! The Path to True Business Confidence
Conventional business wisdom tells us that there is always something to learn from failure. Not true — sometimes it just stinks! Failure that offers no real learning value becomes a big jolt to the basic business belief system. Both success and failure are simply outcomes in the life cycle of business where repetition is inevitable and overall process matters far more than any single event or outcome. Barry demonstrates that developing the resiliency to "bounce" through these cycles determines who will ultimately succeed. Using real life business examples, he shows that with true business confidence we can face our fears, let go of shame and failures, use all our choices, be better risk-takers and define our own brand of success.
Why Book Barry Moltz?


Barry has gone out of business, been kicked out of business, and sold his business and has personal experience in every phase of business and is not afraid to ask his clients hard questions, the answers to which are critical to business growth.
Barry's insights into the challenges, successes and pitfalls will keep your audience enthralled and offers a truly unique and funny viewpoint on the world.
Barry Moltz gets business owners growing again by unlocking their long forgotten potential. With decades of entrepreneurial experience in his own business ventures as well as consulting countless other entrepreneurs, Barry has discovered the formula to get stuck business owners out of their funk and marching forward. Barry applies simple, strategic steps to facilitate change for entrepreneurs.

Barry Moltz has founded and run small businesses with a great deal of success and failure for more than 15 years.

After successfully selling his last operating business, Barry has branched out into a number of entrepreneurship-related activities. He founded an angel investor group, an angel fund, and is a former advisory member of the board of the Angel Capital Education Foundation. His first book, "You Need to Be A Little Crazy: The Truth about Starting and Growing Your Business" describes the ups and downs and emotional trials of running a business. It is in its fifth reprint and has been translated into Chinese, Russian, Korean and Thai.

His second book, "Bounce! Failure, Resiliency and the Confidence to Achieve Your Next Great Success", shows what it takes to come back and develop true business confidence. It has been translated into Korean and German. His third book, "BAM! Delivering Customer Service in a Self-Service World" shows how customer service is the new marketing. His fourth book, Small Town Rules: How Small Business and Big Brands can Profit in a Connected Economy was published by Pearson in March 2012.

Barry is a nationally recognized expert on entrepreneurship who has given hundreds of presentations to audiences ranging in size from 20 to 20,000. As a member of the Entrepreneurship Hall of Fame, he has also taught entrepreneurship as an adjunct professor at the Illinois Institute of Technology. He has appeared on many TV and radio programs such as The Big Idea with Donny Deutsch, MSNBC's Your Business and NPR's The Tavis Smiley Show. He hosts his own radio show, Business Insanity Talk Radio, and writes regularly for the American Express Open Forum, Forbes.com and Crain's Chicago Enterprise City.
Books