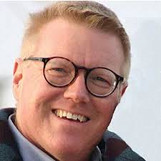 Bill Butterworth
#1 Humorist and Expert on Life & Work Issues
X
Program Descriptions
Seeing the Light Before You Feel the Heart
Priorities: Being accountable for your schedule
Endurance: Don't just do something, sit there!
Pacing: Doing fewer unimportant things

The Only Constant Is Change
Process of Change: How change works
Perils of Change: Why change frightens us
Proactive Change: Moving from "should" to "could"

The Promise of the Second Wind
Renewed Purpose: I know why I'm here
Re-energized Direction: I know where I'm going
Re-vitalized Energy: I have fresh fuel for life's race

Great Traits of Effective Teams
Making use of his exceptional, humor-laced storytelling style, Butterworth makes the basics of teamwork easy to grasp and easy to put to work and offers a succinct understanding of how to work well as a team.
Why Book Bill Butterworth?


He blends humor with heartfelt wisdom and insight on the topics of life balance and dealing with change to guarantee success.
Bill brings passion and expertise to his presentations while teaching time management and building successful teams.
Bill Butterworth's extraordinary ability to blend humor, story-telling, wisdom, and practicality has made him one of the most sought after speakers in venues throughout North America. Many consider him the #1 humorist/expert on life and work issues. Through his wit, warmth, insight, and realism, he brings help and hope to his audiences everywhere.

Bill taught at the college level for thirteen years and was a counselor for six years prior to his current passion for motivating men and women in the workplace. Because of his remarkable abilities, Bill was awarded the Hal Holbrook Award by the International Platform Association, whose past and present members include Mark Twain, Abraham Lincoln, Theodore Roosevelt, Elizabeth Dole, and Bob Hope. They consider him one of the select few to be named a Top Rated Speaker.

Since 1988, Bill has traveled full time speaking to audiences as small as 18 and as large as 18,000. With groups like Disney, Ford, American Express, Daimler-Chrysler, Nortel, Bank of America, Verizon, Young Presidents' Organization, and 26 of the 31 teams of the National Football League, Bill's client list reads like the Who's Who of corporations, associations, educational agencies, and professional sports teams.

As a highly regarded author, Bill has written over a dozen books, both under his own name and as a ghostwriter. They range from psychology to self-help issues, to the autobiography of one of the Dallas Cowboys. He has been a columnist, an editor, and has written scripts for Warner Brothers.