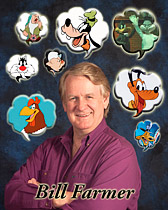 Bill Farmer
The Voice of 100 Characters
X
Program Descriptions
You Can Teach An Old Dog New Tricks...My Life With Goofy And Other Famous Characters
Follow the journey of celebrity voice actor Bill Farmer from his roots in rural Kansas to being one of the most recognized Hollywood Voice-Over artists of our time. This Emmy nominated Disney Legend mixes humor and life experiences in his inspiring and uplifting story of success in the highly competitive entertainment industry. With film clips, anecdotes and insider stories, Bill's presentation wows audiences in schools from Elementary through College, large audiences, Conventions and Corporate Presentations nationwide.

Succeeding With ADD And Tips For....Oh Look! A Squirrel!
Bill Farmer was diagnosed with ADD well into adulthood. In this presentation, the Emmy nominated celebrity voice actor offers a humorous and thought-provoking look at dealing with Attention Deficit Disorder with strategies to thrive and survive with the obstacles and opportunities presented by ADD at any age.

Success Through Acting
Learn to use the tried and true tips and techniques of acting to supercharge success in any career. With a mixture of humor and life lessons, and stories from his successful 30 year acting career, Emmy nominated Bill Farmer teaches the steps that can lead you to the top in your chosen profession. Build confidence, perform at your best and avoid sabotaging yourself. Find the best inner you while maintaining necessary balance in your life for long lasting success and happiness in your professional and personal lives.

How To Voice an Animated Character
Few Hollywood stars have taught us as much as Goofy, who has shown us how to do everything from conquering the slopes to tearing up the gridiron to hooking up our home theaters. Now Disney Legend, Bill Farmer, who has voiced the Goof for more than 25 years will teach audiences the latest lesson in the Goofy curriculum: How To Voice An Animated Character.
Why Book Bill Farmer?
The "Voice" of Goofy and Pluto since 1987


Disney Legend (member of Disney Hall of Fame)


Emmy nominee for the Mickey Mouse Clubhouse show


Has forged a successful career after being diagnosed with Attention Deficit Disorder as an adult


Member and regular contributor to Fred Willard's Mo-Ho's improvisational comedy troupe
For decades, audiences of all ages have enjoyed Bill Farmer's standout work in vehicles and venues as diverse as his talents from clubs to conventions, broadcasts to podcasts, and TV screens to movie screens.

What began in the standup comedy clubs of America's heartland has become one of the most colorful careers in Hollywood, with a seemingly endless list of live and recorded performances engaging fans of every demographic.

While Bill has famously performed as the official voice of Disney's Goofy and Pluto since 1986, his sterling voice-acting resume includes thousands of leading and supporting roles in film, television, advertising, consumer products and more.

For his unparalleled body of animation-voice work with such leading studios as Pixar, Warner Brothers, Universal and MGM, Bill became the first voice actor to receive the prestigious Friz Freleng Lifetime Achievement Award for Excellence in Animation. Equally distinguished is the immortalizing Disney Legend Award (recognizing individuals whose unique talents have helped shape the Disney legacy), which Bill received with entertainment icons Robin Williams and Betty White. Further adding to Bill's many honors is an Emmy nomination for his memorable performances in the hit animated series, Mickey Mouse Clubhouse.

Currently in production is The 7D a new Disney-animated TV series conceived as an irreverent prequel to the landmark film, Snow White and the Seven Dwarfs, with Bill now voicing the role of Doc.

Never straying from his comedy roots, Bill and his more than 100 celebrity impressions and dialects has continued to thrill adult audiences with standup routines at clubs and corporate events, and through his monthly improvisational performances with Fred Willard's sketch-comedy group, The MoHo's, at Hollywood's Second City Theater.

To help others reach their performance potential, Bill teaches voice-acting students, produces voice-actor demos and offers private coaching through his own production company, Toonhouse, Inc.